I played with my Navajo spindle a little bit the other day and then after a long day yesterday-after supper I played some more.
I also watched my instructor Robin's video again and his explanation of the pinch and draw finally hit "home" like a light turned on and I got this finally. Don't ya just love it when that happens?
I had gotten the idea down of what I needed to do over the winter but when I went to my wheel was just having major problems again-so decided to go back to mastering my spindles first. At the class the girl next to me helped me by saying-you know I think your troubles are with your pinch and then the draw-that helped me to concentrate on that again. Which for me really needs to be mastered before I can go forward.
I got in my stone spinning bowl that I thought would work for both the Russian and my Navajo but it did not fit the Russian at all. Instead of returning it for a different one I decided to keep it for my Navajo-which really helped the process and I chose another one for my Russian-I love beautiful craft tools anyways
This is the new one I ordered from the above link (the Dancing Goats Folk Studio) it should fit my Russian spindle perfectly as the indention is wider and not as pointy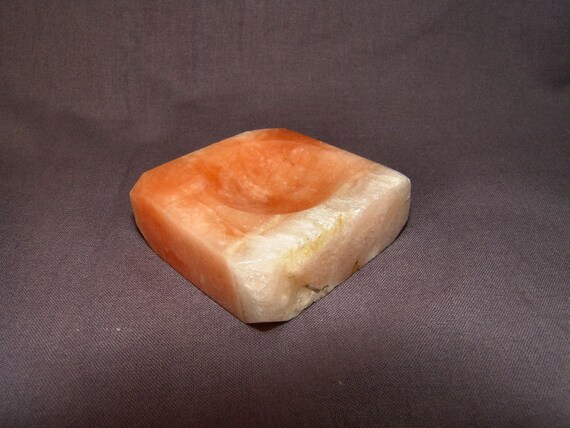 After learning how to use my drop spindle over the winter with the help of reading my books again, you tube videos, and friend Gene Black I had the basic concept of spinning but I am really enjoying the method of supported spindles better where you spin with the bottom tip of the spindle into a bowl. It also seems easier for me to master right now as well. Supported spindles need to be used with cotton so am happy I learned this method
photos will enlarge just click on them-please excuse my dirty floor you can see I am too busy spinning to worry about vacuming lol
If you remember my past spinning attempts my yarn was quite thick: this is still thick and thin, but is not over twisted and much thinner. I spun up all of my hand carded rolags so now I need to work up some more. Which I have been watching you tube videos on hand carding too-as I was always doing it a little different-back in the late 70s and 80s there were no you tube videos-lol and I didn't have access to a teacher.
I also wanted to mention that using the Navajo spindle is easier on my left arthritic hand as that one is not pinching but rather rolling the spindle off my knee area. Of course this can be done either left or right handed just check the video link. I am spinning up my Navajo churro wool and this is woven as singles.
Today starts another string of days with extreme heat indexes-like 110 degrees f sooo I need to get out there this morning and water my tomatoes in the big tubs and then work on stuff in the house-start the next batch of pickles-a full batch this time, catch up with laundry, and do some hand carding mixed in with sewing my hexie flowers together.
Happy Friday!!