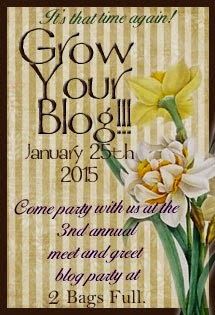 WELCOME
.
So glad you found me at Vicki's Grow Your Blog Party!
I have been retired since the autumn of 2003, wow can't believe it has been that many years ago already-lol. We moved from northern Illinois to the Ozarks of Missouri. My husband and I live very rural in the woods.
My home will probably never get finished-it was a fixer upper when we moved here, and although lots has been done there is still much more to complete. So along with learning how to do faux walls, set rocks on walls, garden, hunt our land, fish, explore foods and herbs in our woods-I am also delving into creativity projects that interest me.
Fiber arts has always been my love, and I am someone that bounces around from project to project-weaving, quilting, rug hooking, sewing, but I also love hand dyeing, eco nature printing,making soap, herbal salves, making handmade papers and-and- there is still so much more to learn. I also do not really plan a project-I have an idea and then just "go for it" lol So far my weaving is more planned but that will soon change when I explore saori weaving this year.
I am not satisfied with only being a quilter or only being a weaver or only being a hand dyer-but that's me-so although I consider myself a fiber artist I am not a master of any one fiber craft.
So if you are a new visitor to my blog and enjoy reading blogs that create all sorts of different things, shares recipes, photos, and my "doings" here in the Ozarks during my retirement years; I hope you will enjoy reading me and become a new friend.
I have been blogging since probably around 2004 or 2005. I learned to quilt on a yahoo group and that led me to the wonderful world of blogging on Yahoo 360-I still miss that place. Then allot of us went to Multiply-and then when that went down we all scattered on the web, many of my friends stopped blogging and went to Facebook instead-I still love the platform of journaling and sharing on a blog the best so I settled here on Blogger.
Blogging is very rewarding for me; I have met so many new friends, learned so much and have been touched and inspired. Since we live very rural-the internet is really a blessing to me now.
Vicki's first Grow Your Blog Party changed my blog world here on Blogger-and I am so thankful, I had such a difficult time connecting with people before that first party. The Grow Your Blog Parties have introduced me to so many friends all over the world-and each one inspires me when I go through my blog list and read their posts. You are most welcome to explore my blog list-there are now over 100 listed. I find it easier for me to have my reading list right here on my blog.
GIVEAWAY
Yes, I am having a GIVEAWAY again at this party. I have been thinking of what I can share that is very flat and not heavy so it can be shipped worldwide easily, and something that everyone can use and hopefully love.
Last year I shared some of my beautiful hand dyes but I know not everyone sews or has an interest in fabric.
So, this year I will be sharing 4 sheets of my handmade papers.
I think everyone will enjoy creating with or using handmade papers-these make lovely cards to send in the mail, paper crafts, or even journaling or scrapbooking. I love lots of textures in my papers as you can see from my background page.
I will be making new papers especially for February and for this event so what they look like will be a surprise for the winner.
The rules for the party-Everyone can sign up for my giveaway-just leave a comment. Also, we are all drawing our winners on February 15th.
Only thing that is important-I must be able to contact you-so many of you are no reply bloggers so that means there is no way I can contact you should you win-so if your settings are set for no reply-you must leave me contact email information in your comment-if not I will draw another name. That's it. Good luck in the drawings!
I thought I would close with a photo of my latest-always wanted to learn craft-spinning. Last weekend I ended up spending saturday through monday teaching myself to finally master spinning with my bottom whorl spindle. By master-I mean the wool doesn't fall apart while I am trying to spin and it actually resembles yarn lol
This has been a dream of mine since the late 70s have tried to learn off and on through the years-but just never could grasp it no matter how much I tried.
2015 I decided was my year to learn and master this or be done with it -lol With the help of re reading my books, online you tube videos-which are an amazing tool for learning these days-and my friend Gene Black-I finally got this! I am so happy with myself. I am in my mid 60s now-so just saying never give up on your dreams if you want them bad enough.
Here is a photo of my latest attempt-its thick and thin "art yarn" as one video said it would be. Next up is to master my spinning wheels. (click on photo to enlarge)
I made this awesome raisin pie to share with our friend that flew in for a visit this week-hubby's favorite too. I just happened to have some from fresh cream to whip up in the frig.
I followed the recipe from Sunmaid raisins but what I changed in the recipe: I used half regular raisins and half yellow raisins, I used half brown sugar and half coconut sugar-which really cut the sweetness for better flavor of the raisins, and I make pie crusts the way my farm girl grandma always did but I now use healthier white whole wheat flour. The recipe makes a very small pie so need to double it to get a 9" size pie.
So go grab a cup of coffee, tea, or hot cocoa and---Have fun at the party! and thanks so much for visiting.
Just a Note on how to check your blog if you are set as no reply and want to change it: I have had a couple replies that stated they didn't know how to change their no reply so here is how:
1. in upper right hand corner of your Blogger page click on design.
2. when this page opens up-in the same upper right hand corner you will see your name and photo-click on the little arrow to the far right-which will open up a couple things-click on profile
3. when your profile page opens up you will see an orange little box on top of page that says edit profile-click on that
4. when this page opens up the second line says share my email-check that off and go down aways where it says identity and confirm the email address is the one you want. It will say email address you want your contacts to use.
That's it-and for me doing this opened up a much better world for communication with my readers and friends here on Blogger. I have never once gotten a spam email from doing this.
Ok Now go back to the Party-and have fun meeting new friends and signing up for giveaways-