I was invited by friend Tammy to participate in this event. I don't usually do these, but since this one was art and creativity related I decided it would be fun to participate in.
Find Tammy's post here I was drawn to Tammy's blog because I enjoy her beautiful photos, crochet pieces, shared food and recipes, and also for her positive and happy posts. Tammy was tagged by her friend here which I wanted to also share-she has a beautiful post too.
I enjoy reading blogs that inspire me, make me happy, learn new things from, and for the meaningful and caring friends I have met inside my computer. I am retired, l live very rural, don't get out much-but I can visit the world through friendships here in my blog. and I really Treasure and Love that.
We were to answer a few questions about our creative process.
How does my work differ from others?
I delve mostly into the natural fiber arts and natural dyeing. My work probably differs cause I am self taught, I do allot of recycling-quilts made from cotton shirts found at the resale shops mostly, wool, silk, and linen also found at the resale shops.
I rarely make what is trending, I just create as I am inspired to do so. I usually have several pieces going on at the same time quilt in progress, warp on the loom, embroidery-or hand quilting, I also have a rug hooking project in the works, and ideas in my head for eco printing onto cloth, and soon a wool crazy quilt purse
Why do I write/create what I do?
Before retirement I worked very long hours-two jobs and a long commute to my main job. I did not have children to raise but I still worked at having a nice home for my husband and myself. This left very little time to create-I did do a little weaving, but not allot-was a great way to relax and de stress.
Upon retirement in September 2003 exploring my creativity was very important to me. It makes me feel good, inspires me to learn new things, and I love the process. At this time in my life-mid 60's its important to me to keep myself inspired-and creating things does that for me.
How does my writing/creating process work?
When I am creating a fiber art piece-I do not totally plan it all out. I will have an idea-grab fabrics, needle felting supplies, and other components-and just start. The process evolves til I am finished. I worked this way when I was swapping hand made cards too.
When I weave I do follow a pattern, choose my yarns and weave. However, soon I plan to start weaving the soari method which is spontaneous-one just weaves and creates with no pattern in mind.
If I make a quilt, I also go by a pattern for the most part, but I always change up the fabrics and colors, and perhaps change the borders-I am not one to purchase a kit and make something that many other people are making.
Sometimes I will purchase a pattern that had inspired me at a quilt show event-but I always change it up-wool instead of cotton appliques as an example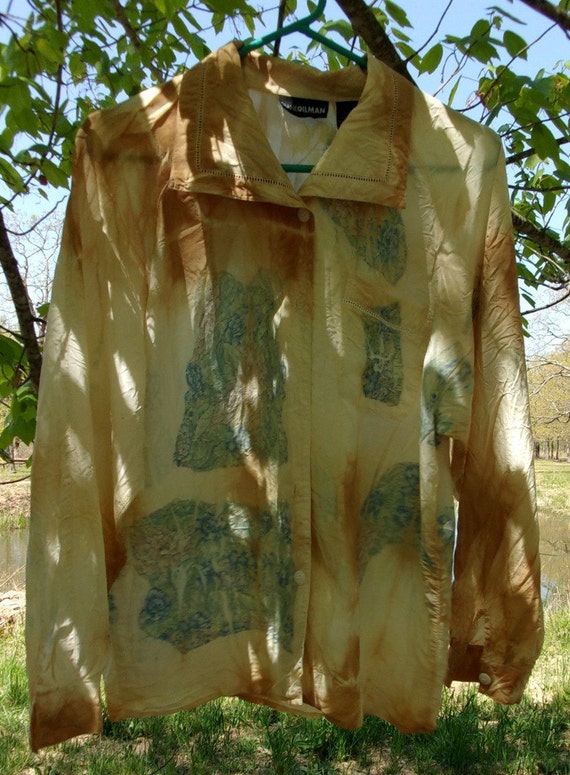 Silk on silk blouse-this was allot of fun to dye
This is the first piece that when I listed it for sale, a customer fell in love with it and purchased a few weeks after it was in my shop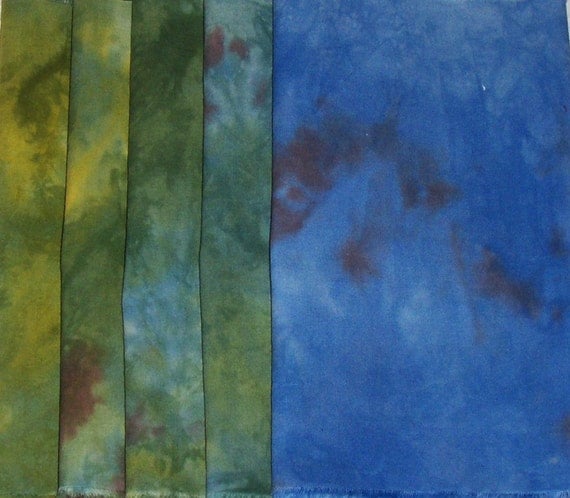 I like to hand dye cottons for quilters and fiber artists These are fat 1/8's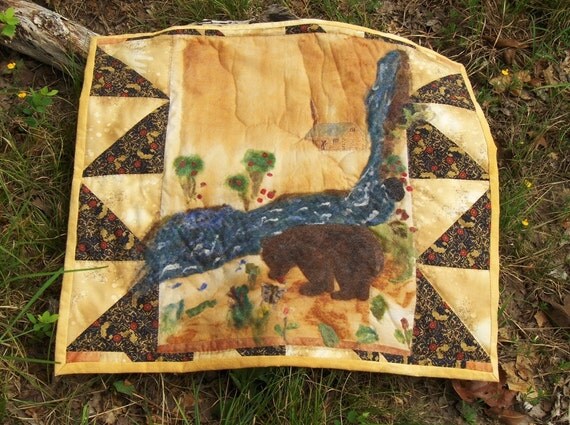 My first fiber art piece-includes rust dyed cotton, quilt squares, and lots of needle felting with silk noil and wool roving this piece has sold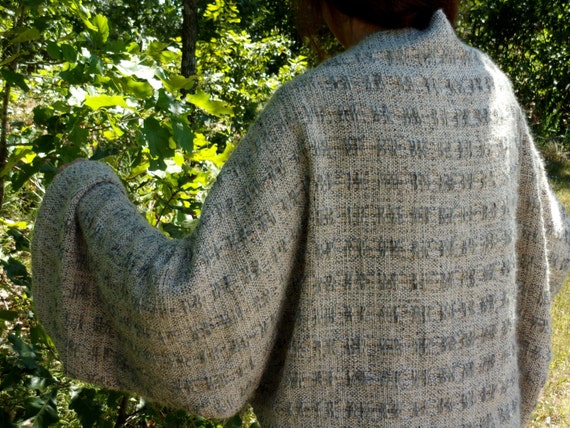 Handwoven shrug with organic cotton, wool, mohair, flax Really love this pattern, very comfy and warm to wear.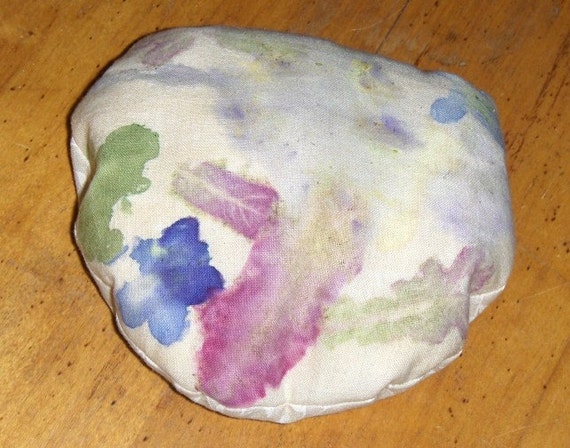 A few years after we moved here I went to a quilt retreat nearby and learned about flower pounding-this was one of my first pieces I filled it with rice and dried lavender buds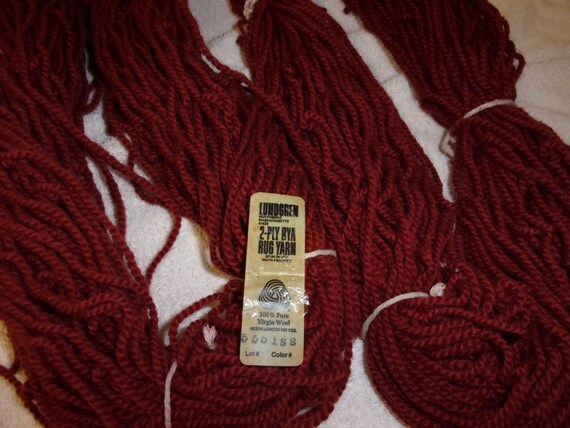 This was my first attempt with dyeing wool yarn with poke berries-so pleased with the color
What am I working on?
Right now I am still collecting leaves for eco printing onto cloth. I enjoy finding garments at the resale shops to repurpose into something new-either by hand dyeing, transferring colors of silk ties onto silk garments, or my new found technique eco printing. I do have a scarf and a blouse in the works now.
I have a rug hooking piece that needs to get finished this winter, I am putting a new warp onto the loom to make a shawl with wool and alpaca for a friend, I am in the thought process now for a new fiber art piece-mixed reclaimed wools especially and needle felting with wool and silk.
I am hand embroidering some large blocks and will sew them into quilts with lots of autumn homespun cotton fabrics. I have two of those quilts I would like to make and will tie them up-faster way for me to get a quilt to use. I have made many quilts in the past that I gave away for soldiers returning from the war, or those needing a hug-so love quilts were made. It is now time for me to make a few quilts for us.
I also have collected lots of beads and wool this past year to make a wool crazy quilt purse-so that will be in the works too. I am excited to start this one.
I tell my friends-I am never bored-how could I be-always something new to learn about and to create. I do have a search tool here in my blog-just put in weaving, quilting, crazy quilt , hand dyeing, rug hooking etc. to find posts and more photos about my creative projects..
I have tagged three friends to continue the Around The World Blog Hop.
Loretta has been a long time friend, she is a gardener and an artist and recently retired. Her post is up now-link will take you there.
Heidi has also been a long time friend of mine. Heidi loves to make things too and she loves sharing her photography. Watch for her post on November 4th
Carol is a new friend that I found here on Blogger when this became my new primary blog a few years ago. Carol is from Missouri too, an artist, and like me makes different things,and she takes beautiful photos of her garden. Watch for her post on November 4th