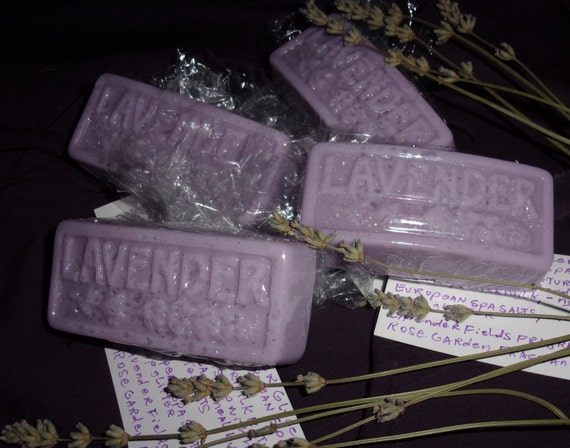 Information Here for Giveaway I will be drawing around the 4th of July weekend (this one is for a usa mail address only) Please sign up on the giveaway post, I will draw two winners for these new Lavender spa bars with himalayan salt.
I hope you all had a wonderful weekend, especially with fathers or remembering fathers. I made up lots of picnic foods and Mr L smoked a venison ham that I had in the freezer. He brought over the meat and I gave him sides to take home for his family so was nice.
I think we are headed for a hot week-up in the 90s with humidity-we have been spoiled with cooler than normal temps along with lots of rain-the rain is always a blessing here as we never seem to get enough for the gardens. It has rained so much here in the last month especially that I am surprised that they say we are still in drought conditions but no longer a severe drought. It has been nice that I haven't needed to hand water too much lately.
My main goal this summer was to grow enough nice tomatoes for canning-so far so good with the plants. I am still drying herbs-they are abundant this year do to all the rain, especially my mints. I was able to harvest lavender too in between the rains. My salad greens are just about over so will be pulling most of those out this week.
I had mentioned previously about over doing it and having major problems with my hands-especially my right hand. Hubby reminded me that I had been diagnosed when I was still working 10 years ago with pretty bad carpal tunnel-so I think that has flared up too. After doing allot of reading online for herb choices I settled on Dr Oz's article and his choice of herbs:
Boswellia (also known as Frankincense). In one study, this decreased arthritis pain by over 80% and it is a powerful anti-inflammatory. Use 900-1,000 mg a day.

Willow bark. This is the original natural source for aspirin. Because it combines many natural compounds, it is more effective and has been shown to not cause the stomach bleeding caused by arthritis medications. In head on studies, it was twice as effective as Motrin, and as effective as Vioxx.

Cherry. Though not as well researched as the other treatments discussed here, it does have significant anti-inflammatory properties. Eating a dozen cherries daily can be very helpful.
I have been on this for about two weeks now (I found the cherry in pill form) and I can tell a slight improvement-and I know herbs take longer to work. The willow bark I already had on hand and is the only product I use when I need an aspirin.
Over the weekend I was able to hand sew in 4 pages in my handmade journal-did 2 pages a day. Each page takes me about 2 hours to sew in. So am thrilled about that.
Also a few days ago I ended up making 5 pies-I wanted all the apples to get used up-so Mr L helped me peel all those apples-and the next morning my hands did not have a set back.
I had made gluten free pies for me and gave a couple away.
However when I went to pull weeds yesterday I still was in pain doing that with my right hand-so I didn't over do it and mostly used my left hand--so I will re evaluate once I have been on these herbs for a couple months.
I am waiting for my needles to arrive so I can get back to needle felting my bears. I am also searching on etsys for white wool roving to hand dye-Once I get set up-plan on doing lots of natural dyeing this summer. I need to go back in the woods and harvest more bloodroot as I don't think I will have enough.
I am looking for things to sell on ebay-need to seriously down size, I did find homes for 6 stretch and sew patterns so that's 6 less patterns-lol
Have an awesome week!!