Good morning, I think it's time for a little giveaway, don't you? (smiling)
I have decided to hook up this post to Let's Bee Social-see the button on right hand column to visit or to join in on this social event.
I wanted to share my giveaway with all of you at Let's Bee Social.
I have not done allot of sewing since I last linked up. I am almost finished with my hexagon mug rugs though.
However I did dye a gorgeous silk blouse with red onion skins that I was thrilled with -can see in my fibers etsy shop. I also just listed two other eco cycled silk blouses-that I repurposed using onion skins and silk ties for the dye-love these too-and much fun to make.
I have been spending lots of time in my mini garden-see my next post for an update on my progress. It was so hot last week-and now we are cold and chilly again-but the much needed rain is more than welcome and I am enjoying the cool down-although highs in the 40s is needing an adjustment after high 80s and into the 90s-but that's Missouri. We also enjoyed a visit with friends from up in the Chicago area-so life is good here in the ozarks-thanks for stopping by.
This week I have decided my canada geese pair need names. I don't know if they will now be year round residents of if they will leave and come back-but either way I have decided they need names.
Mr canada goose is very devoted to his job as being the decoy protecting Mrs. canada goose. He walks miles it seems every day, and he is very intelligent-as most birds and animals are-one must just notice. I hadn't realized one day that he was already in the back at the woods line looking for corn when I walked back there. He spotted me and as I came closer he started hissing at me. So I talked to him politely and showed him I was the one with the corn. I walked around him so as not to agitate him continuing to throw out the corn. The next time I ran into him with corn-he just watched me-no hissing. Mrs. canada goose is always on her nest, but now we do see her going for a little stretch now and then.
So for the giveaway I have decided to give away two jars of my Whipped chamomile with primrose oil and lavender-I am loving this new butter allot (awesome for sensitive skin)-and I am also working on new butters, lip balms, and moisturizers soon to be posted in my shop-so I hope you will also stop by my Kathyinozarks Soaps on Etsy when you have time to browse and hopefully do some shopping.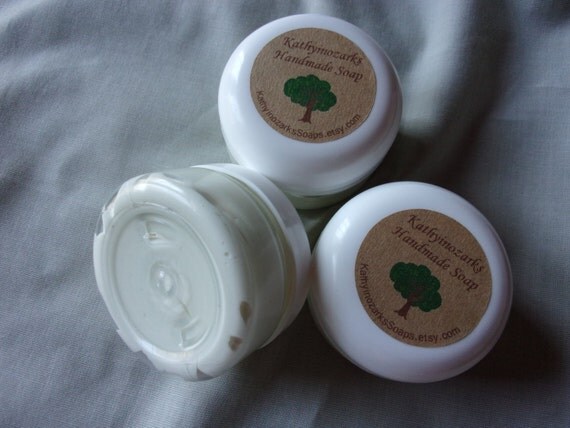 This time instead of only drawing a name out of the hat I will also draw for winning names of Mr and Mrs. Canada Goose.
For winning chances:
1. first chance name my pair of geese.
2. then for more chances: tell me how you read me-blog list, email, bloglovin etc
3. share this post on any other social media and come back and tell me where.
4. I am still working on getting the news out about my etsy shops-so please share this post on facebook and tell me that you did.
5. like my facebook page for my kathyin
ozarks soaps and tell me that you did. If you already liked my page just tell me that you did
6. visit my kathyinozarks soap on etsy and favorite my shop and let me know you did
7. while visiting my shop favorite items that you like-and tell me that you did
Good luck in the drawings
For the first jar I will choose the winner by which name I like best for my geese pair.
I will draw for the second jar from names I put in the draw for all the other chances.
I will draw on Friday May 23rd