I placed Barbara's button about this event in my right hand column. I mainly put it there to remind me to get busy with my quilts that I want to make.
This year instead of just finishing up quilting projects that have been started this challenge is also to just start a quilt project. Now this just fits me perfectly.
Those of you that have been reading me for a bit know that I have been collecting reproduction civil war fabrics, and 1830's fabrics to make several quilts. I have the fabric now and just can't get myself going on these, and I have several I want to make.
In no particular order:
From Barbara Brackman I just love her 1830's inspired folk pattern. More information on the pattern here I have the background fabrics collected already, and also have allot of wools, some I have already dyed with natural dyes that I want to use for the appliques-I think I will enjoy the process more using the wools for these fun appliques-and I really love wools and cotton together in a quilt. I have been collecting lots of different threads and beads too-so who knows how this one will turn out.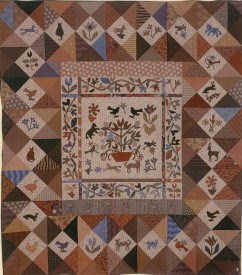 Another quilt I have been really wanting to make is another 1830's era quilt that I found in Terry Thompson's Lewis and Clark Volume two pattern book. I did a post on this quilt but I can't find it at the moment. I fell in love with this when I first saw it in one of Barbara Brackman's fabric history books, as Terry Thompson owns the original quilt. I took this photo from the book. I have all the reproductions fabrics for this one too, which also has applique. I bought so much fabric for this piece that there will be plenty left for more quilts from this time period.
I also have the fabrics and want to make Barbara Brackman's 2013 free BOM civil war quilt Dixie Diary find it here Her quilt was inspired by this book
Excellent reading if you are intersted in the civil war. I bought this book and could not put it down.
Other quilts in the works is to make a couple quilts from quilt blocks that my Mom embroidered before the dimentia disabled her. We did Sunbonnet Sue blocks together and she also embroidered a couple blocks with a log cabin and bears.
I have not yet made any hexagons so I ordered a glass template from Val and will give it a go this coming year too, if not as soon as it arrives-lol.
I will be so happy to get these quilts started and finished. Thank you Barbara for hosting here is a link if you would like to join in