Today finally feels a little more like fall-raining and cooler temps-we have definately been spoiled here.
I did get the old flatbed truck filled with the cut and split firewood Larry had done, and unloaded it and stacked it yesterday morning. We are really behind on getting our wood in this year. Larry hasn't been feeling the best and it has actually been too warm to be out in the woods getting the wood. After the rains end this week we gotta get more serious and get that task done. As wow it's mid October already.
We are finally getting more colors in the woods too-reds and yellows, and the male turkeys have been outside our viewing window eating the corn I put out-they are always so cool to watch. We have deer regulars too coming up most every night now-especially a doe and her fawn which is about half grown now. I will feeding them end of October and then start up again after deer hunting season.
I have been looking forward to receiving a couple new books I ordered, and was originally disappointed when I remembered that Monday was a postal holiday. I was working in the garden-spreading some marigold seeds around the outside of the fence when UPS drove in. I am thinking must be for Larry's business as I don't remember ordering anything that would come in by them-but surprise it was one of my books.
I have to tell you if you like gorgeous quilt books for inspiration Kaffe Fassett never disappoints me. I order my books sight unseen too as living rural I don't have any store close to me to view books first. His latest book Quilt Grandeur is just so beautiful-and there are several quilts in this book that I would make.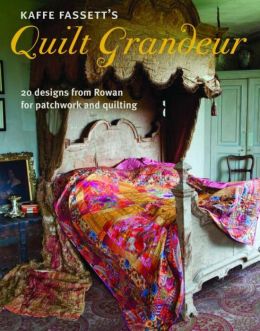 He always chooses fabulous places to photograph his quilts, this book's photos were taken at Port Eliot the stately Cornish home owned by Lord and Lady St German
I found a few photos of the quilts in the book:
I really love this polka dot one
There are 20 quilts with the patterns in this book, a couple for children too, I loved most of the quilts in this book.
I am making progress on my hand quilting-my goal is to quilt at least one block per day-if I can stick with that most days should be able to finish in a month or two. I am also working on the bathroom project and finished up the tissue paper that I wanted to do right now yesterday. Just need to go over with kilnz paint today. The tub area walls I will wait a bit til we can use the shower. I may see if I can tackle the ceiling today. I wish we would have worked on that first as now I will have to tape things off to not get paint on my rock work, and cover things up too.
I also have lots of cleaning ahead of me. November 16th weekend is opening deer season and we always have a full house during this time. I use a couple weeks just before for my "spring" cleaning. Will start on that next week.
I am going into town with my neighbor friend tomorrow, and tomorrow is also hubby's birthday. I think I will make up a cake or cupcakes today, and figure on what I can put in the crock pot tomorrow morning, so supper will be ready when I get back.
My Etsy shops have been neglected all summer mostly til now-with no sales at all in my soap shop. I am thinking of making up some bar soap for autumn with pumpkin fragrance-I am probably a bit late on this but this soap will be nice through November too. They keep upgrading the site on Etsy so is really hard for me now to do anything with this old computer-so that is frustrating for me. I am hoping to get my two silk on silk dyed blouses listed in my Etsy fiber shop soon. They are ready to be steamed pressed, rinsed in vinegar water, and washed and dried-then steamed pressed again.
Oh and in the last month or so I have been lucky enough to win two giveaways here on blogger. One was for a handmade stencil made by a fiber artist, and one was for a bundle of hand dyed wools in reds-that is always so much fun to win once in awhile. I will post photos and links soon.
The other day I did make up one of my homemade pizzas. I have been making these on my stone tiles but decided to grab our big cast iron pan this time-always good eats!
Well, that's my catch up-what have you all been doing??