I have never had the pleasure of having kids, but I remember gardening with my Mom as a child, and it has always stuck with me. Gardening is useful and gives us pleasure.
I love the idea of a child having their own little garden. Depending on the age of the child it can be their own pot to grow in, or their own little space in the garden. Herbs can be part of this too, and teaches them about gardening and cooking with their fresh herbs.
I think it would be ideal to have a little patch in the main garden so you and your kids can work together in the garden. Dress it up with a little figurine or a little border around their own little garden space. Make labels from pop sickle sticks for each of the plants too. Have fun with it.
One way to get them involved is to plant an aromatic garden. Allot of larger gardening centers carry allot of herb plants in the spring now. Let them choose their own herbs by smelling the different choices of herbs-mints, lemon balm, the scented geraniums, pineapple sages, even the thymes are very fragrant with many varities available now.
I would also suggest growing a few edible flowers amongst the child's herb garden-such as nasturiums, little violets or jump ups, perhaps grow chamomile to make tea. Of course explaining not to eat any flower just the ones you are growing for that purpose.
While searching online I ran into this really fun article about gardening with kids here and for older kids she talked about starting your own seeds-in recycled toilet paper rolls-how clever is that??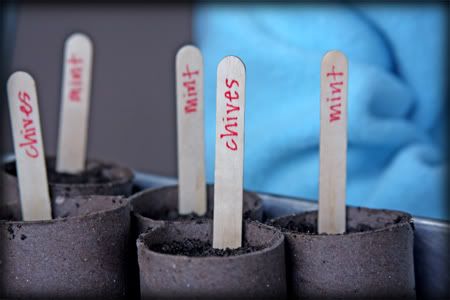 This article also suggested growing a pizza herb garden-

Another fun kid-friendly idea is a

pizza planter

. Pick a frugal, creative container and grow all in one bucket a tomato plant, oregano, basil, thyme peppers, and any other container-friendly pizza topping. Make

homemade pizza every weekend

, and your kids will enjoy heading to their own garden for the ingredients.
I hope this gave you some ideas for planting herbs with kids, or even if you are brand new to herb gardening.
I have set up an Herb Garden Walk of other posts over on Blogster here I have asked everyone to set their herb blog for everyone to read-so hoping you can see the posts Also if you would enjoy contributing an herb post-please do so and share in comments-I will add here and to the herb garden walk.