It's 3 am and I woke up to the sound of rain-actually I love the sound of rain-especially a nice soft rain. Wasn't suppose to rain til the afternoon though; we have a friend that was going fishing this morning and all excited about it last night.
I forgot to bring in an arm load of wood for the wood stove in the living room last night, but I have two pieces left with the small ones so working on getting a fire started. I either have full blown sinus and asthma going on, or I picked up a cold that day when we were out in that cold wind. Either way I haven't been feeling good-with the stuffy head and too much coughing. and I have been cold since then so I am thinking I must have picked up a cold, which I really don't get very often any more. This morning I feel the worse, so I need to find my netti pot, and echinacae tablets.
We are at our warmest temperature this morning, around 50s and will cool off the rest of the day. Getting lots of big ups and downs in the weather which is normal for here in Missouri.
I did a little more hand sewing on my crazy quilt block's borders-can't seem to stick to that and get it finished. I don't want to start my civil war quilts til I have this piece finished. I did get lots of new soaps made this past week so my week was not a total loss in productivity. I ordered two more molds for kids soaps so am anxious to get those in and make up more soaps. These just turn out so cute-I use essential oils of lavender or chamomile and neorli in these, and they are the perfect size for little hands.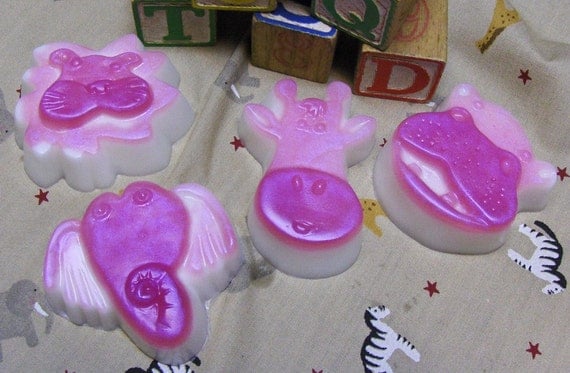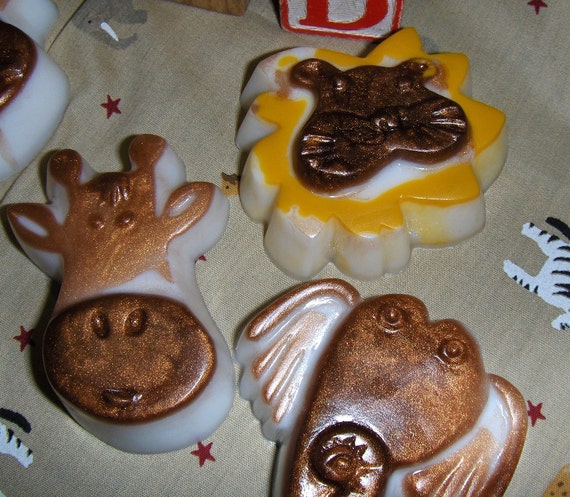 I have also been searching color ideas from paintings and from others hand dyes for my commissioned hand dyed piece. I am excited about this opportunity. I am really thinking either a combination of or using the sun dyes from France. I need summer days for this project, so I still have time to work out the colors in my mind.
I have been rethinking my garden that I have in big plastic tubs. I have several that are big enough for one tomato, or bell pepper. They are pretty heavy, but I am thinking I can move some with a dolley and move them into my fenced in area (where our Nikita was) in front of the house, and near the two raised beds that Larry built for me last year. The disadvantage of the wildlife coming up close in the yard to enjoy-is that they eat your gardens down to nothing-lol
I had thought about the drip irrigation system for containers but decided that was just too expensive. So I searched online for a diy solution and found several articles that used those large plastic coke bottles. Punch holes in the wide end put a little gravel in, bury a bit into the container's soil-fill with water and put the cap back on-to keep out debris. This system was to last 24 hours during very hot days. so I think this is worth a try and more for my budget too. Just need to find someone that buys these that will save for me, as we don't drink much coke especially in those bottles.
Photo found here if you do a google search there are lots of articles on this-some do not put the gravel in, some do, some invert with the small end in the soil.
I also needed to order a few seeds, mostly different lettuces, mini bok choy, kale, and other greens, and I ordered calendula seeds. I want to make calendula soap so I need some fresh flowers to soak in oil-and then add to my soap. My favorite new seed place is here in Missouri-all heirlooms non gmo seeds, and I love that their postage is only $3.50 for any size order. Baker Creek Heirloom Seeds They have a gorgeous catalog with many many varities of things to choose from.
That has always been a real "beef" with me, that most seed catalog companies charge so much for their postage. Most are $10.00 if spending around $20.00 in seeds-which is craziness. I learned about Baker Creek when we first moved here to Missouri about 10 years ago now, the owner was very very young at the time like right our of high school. He is married now, and has a thriving business, with other locations on the east and west coast. Reminds me of the American dream-like it used to be, and still can be with hard work.
I need to decide what I want to bake this weekend, probably tomorrow-thinking of some gluten free cookies, perhaps angel food cake since I still have extra eggs in the frig.
and speaking of eggs-I found the coolest Easter eggs over on Pinterest and have met another hand dyer. Meet Melanie here If you love fiber art and hand dyes you will love her blog too. I think she is having a giveaway too of one her pieces.
I have not forgotton about my giveaway either-I am now at 99 followers (thank you all so much for reading my blog) so my 100th will be receiving a little surprise, and next week I will post a giveaway of one of my little pillows that just came off my etsy store listings.
Well, my fire is going nicely now in the wood stove, and I have rambled on quite enough--I think I will see if can get back to sleep or read for a bit enjoy your Saturday.
mmm I need to find me a recipe for gluten free scones to go with my tea this morning