We got some much needed rain over the weekend. Probably about 2" which helped to fill up our two deepest ponds a little more, and we got a really good soaker of a rain which is good for the soil here and the water table. We have been in a drought for 2 years now so this was good.
Saturday when I was out in town with my friend I splurged and bought me a new movie; Life of Pi. Something about this movie I just wanted to see it. Where we live we do not go out to movies, and when the economy crashed we did too financially so I have not purchased a dvd in probably 5 or 6 years now, plus I think they charge too much money for these too. At first I didn't think I would enjoy this movie, but by the end of the movie I was glad I watched it-very thought provoking and gorgeous photography. I haven't read if the tiger was real or not, so if the tiger was animated that was excellent. If you watched this movie what did you think? I felt it was definately worth my time, and will watch it again.
Yesterday evening I finished up with the book I was reading on the civil war On Shattered Ground. If you are interested in reading about what really happened during 1861-1865 this is an outstanding read. Everything in the book was actual writings from this time period, first hand accounts of the events. It was put together in chronological order. I really learned allot more than I knew about the war. Next up for reading is the Civil War Diaries of a Southern Woman by Sarah Morgan which will take some time to read thru, and I also will be reading a new book for me by Nicholas Sparks.
I am up to the wool threads and embroidery for my crazy quilt block I am making into a pillow, anxious to get it finished so I can start on my two 1800s quilts. It is just sticking to that project. lol
My weaving is calling to me too, as I have a couple more kitchen towels to get woven off, since this will be a cold dreary week a good time to work on that too.
Today it is really chilly outdoors, I just came in from feeding the wild birds and critters, and bringing in some firewood up to our woodstoves. So I am happy to stay indoors today-lol
and opinions please. I have never used bath fizzies and from reading threw recipes from my soap supplier-sounds like they are quite popular. I am thinking of making some for spring, and to go into the big Mother's Day Giveaway basket-so opinions please-have you bought them?, do you like them, would you buy these? I think these have a nice look to them-two bath fizzies shaped into blue eggs sitting in raffia to look like a nest.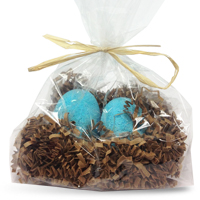 I think these would be perfect for spring and for a mothers day basket. Bird of Paradise is the fragrance, but I can always change that up.
So how is your Monday going??