We haven't had a major winter storm here in a couple years. I am situated in the middle of the storm where we will be getting lots of ice, thunder, lightening, and high winds-then snow sounds fun-lol Below us is to have more ice than us, and above us is to have more snow, and surrounding states is to have a winter blizzard of a foot or more of snow.
So today is a good day to sit by the wood stove, and will finish up the quilt I was making for our sea nymph. I have friends working on contacting her grand daughter on fb so I can mail the quilt to her. This quilt also has loving stitches in it from Karen-kentuckyweaver.
Yesterday, I spent a day with my neighbor friend in Springfield, mo. we had our taxes to do, visited a couple of craft and fabric stores, sams club, and met my friend Rita on etsy for lunch. A long but nice day. I needed to get out of the house too, this has been a rough month for us.
There was a new fabric store that just opened FM fabrics. I found the 1800 reproduction fabrics I needed. Another chocolate brown to go with my pinks and browns civil war quilt. I also found an 1830 pattern by Barabara Brackman that I purchased a few years ago, and I needed one more fabric for that-so I got that too Here is a link to the pattern Primitive Paradise I am going to use my reclaimed wools for all the appliques.Below is a photo of the pattern.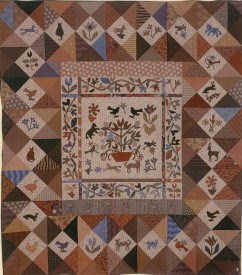 I also picked up some beautiful glass beads for my crazy quilt project So a nice day.
hunkerking down for the storm Stay safe everyone