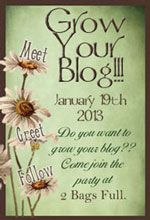 So glad you dropped by for a visit.
I am Kathy living in the Ozarks of Missouri. I am in my 60's-yikes-can't believe I said that-lol. I retired in the fall of 2003 from 25 years with the phone company (telephone operator) and also retired from my husband's and my business About Birds of 20 years. We raised exotic birds for small pet shops, zoos and private breeders. We even earned a first ever breeding award for the hanging parrot.
I am a country farm girl at heart, I live simply cause it is just who I am; so in my blog I share all kinds of things that I do-some for the first time. I preserve foods by canning, freezing, dehydrating. We heat our home only with wood, we hunt to put up venison and turkey in our freezer and in jars. We fish so we can enjoy fresh trout and catfish. I love herbs, so I search them out and blog about them. I also share lots of recipes of mine and recipes that I find and would like to share. I have had celiac for around 15 years or more now-so I share allot of gluten free recipes and information.
I also have many interests in the fiber world-I prefer natural fibers to work with in my quilting, sewing, weaving, rug hooking, needle felting-and I collect beautiful fabrics, threads, wools, and more for my projects. I am someone that has at least 4 things going at the same time-yes they do all get finished-in time.lol I also really really love to hand dye fabrics both with chemical dyes from Dharma and also natural dyes-so I also love to share those experiences with my readers.
Oh and my favorite time period is the early 1800's threw the civil war-so I have collected lots of reproduction fabrics and plan to make several quilts of this time period.
We moved to Missouri upon retirement,originally from northern Illinois close to Lake Geneva, Wisconsin. We wanted to move a little south to avoid severe winters, and we wanted to live amongst the wildlife critters-so I also share photos of our deer and turkey visitors and whom ever else may drop in. We live in the woods here in the ozarks.
We live pretty secluded, which I love however we are about 30 minutes from towns which is nice-but shopping is limited, so I buy allot online. I love the resale shops that are in one of the towns near me; I am big on buying reclaimed cottons and wools to use in my projects.
So, why and when did I start blogging??
When we first moved down to our new home in Missouri, our house was in much need of major things to be done (our home is still not finished-although my rock shower is completed but another wall in the bathroom is not, floors yet to be laid with tile or wood, but I just don't worry about that any more-I am enjoying the experience as we continue to finish up) I knew no one, and hubby was quite ill at the time. So here I am kinda stuck cause things were not yet ready for me to do what I can do-paint etc. and I did not know anyone either.
Sooo, my Mom in Indiana one day said why don't you find a little corner somewhere and set up your sewing machine-and learn to quilt. Learn to quilt?? mmm ok-so that led me to a yahoo online quilt group where I met friends and learned how to quilt--and I also discovered blogging.
So I started on Yahoo 360 which I totally loved, and then when that went under most of my friends went to Multiply and my quilt friends came here to Blogger. At the time I did not understand how to set up my blog here, so I was mostly on Multiply but I did cross post to here for several years. Then last year Multiply went down so I copy and pasted the posts I wanted to keep for reference to my blog here. So, please feel free to use my search tool-to find lots of recipes, gluten free, canning, herbs etc etc.
I love this blog site, but have always had the problem of meeting new friends that would actually comment or to find friends with similiar interests.
I am feeling much more like home here now though, as blog friends in my past have found me again, I have met new friends here, and a couple friends from Multiply are here as well-but I am always loving to meet new people with common interests and also not so common interests as well. I love learning new things from my friends.
I was so happy to run into Vicki at 2 Bags Full who is holding this event today-thank you so much for doing this for us.
Sharing a Giveaway
I love giveaways, especially if I am lucky enough to win, but this time I want to do the giving.
I want to give away 2 of my handmade little mini pillows. The backings of the pillows have been hand dyed by me with mimosa leaves from my tree in the backyard, and I stuffed the pillows with organic cotton batting.
I will randomly pick 2 winners the old fashion way-by putting everyone's name in a jar-shake it up-and have hubby choose the winners. Here are the photos-if you wish; tell me which pillow you would prefer should you win. That's it just leave a comment here on this blog post, all readers are invited to enter. If you don't have a blog with email, please leave your email in comments so I can contact you-should you win
I will draw and announce the winner early morning on February 1st, 2013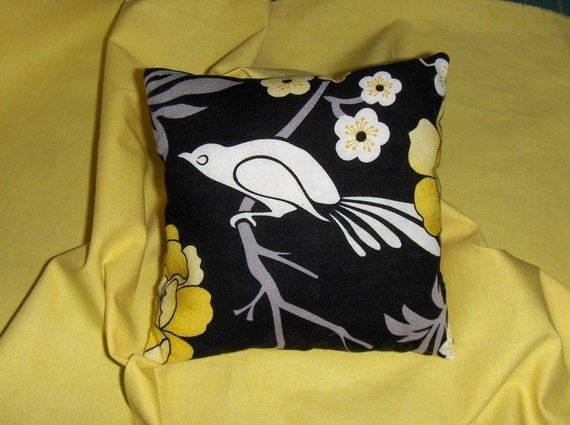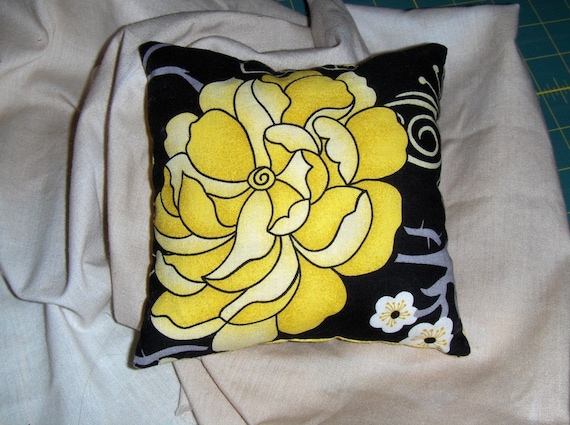 and here is the backing on both pillows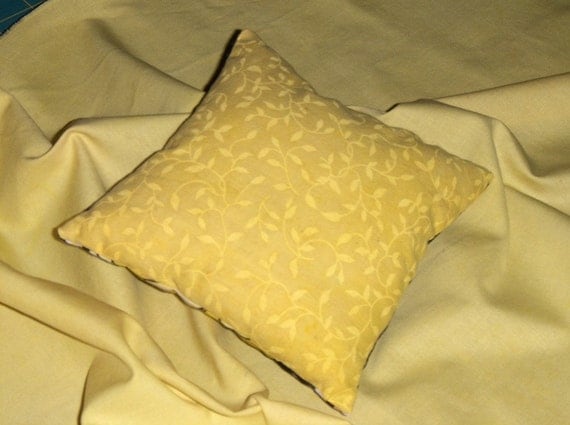 Thank you so much for stopping by and I look forward to meeting you here on my blog. Kathy
Here is a link to our host's blog-with a list of over 400 blogs that are participating in this event-enjoy!