Some of you may remember when I designed and made this-it is my Apples and a Bear Mixed Fiber Wallhanging The main panel is a rust dyed piece of cotton, with silk and wool needle felted on to the center panel. quilt blocks to the left and right and lightly hand quilted. The backing is made from onion skins dyed on cotton.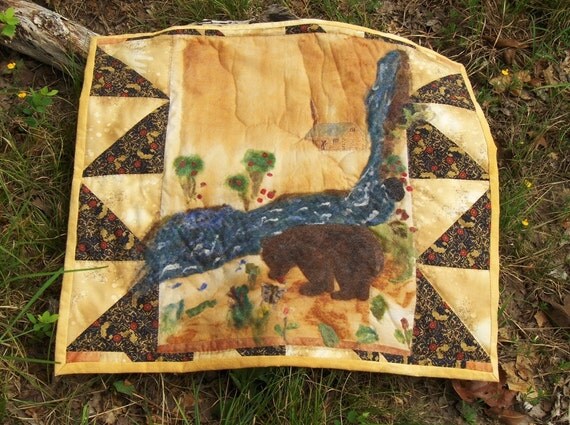 Winter is to arrive later on today-mixed mess of rain ice or snow. and by monday extremely cold from what we have been getting-14 degrees f for lows.
So this morning I fed the wild critters early, and filled up all the bird feeders too. Brought in lots of wood, so we will have at least a weeks worth of wood up near the house.
Early this afternoon we are to drop in on a friends birthday gathering just down the road. when we get home I will be watching the pro football playoffs. My Packers will be playing their game tonight.
I soooo need to get in my craft room and try to organize again-my room is quite small for everything I have going on in there-and packing boxes and more have taken over what little floor space I have left in there-so I am hoping to get to that project over the weekend.
I also will be baking up some angel food cakes, probably tomorrow, as I have a surplus of eggs, and these cakes are always excellent for that.
Have an awesome weekend everyone!!