GLUTEN-FREE FLOUR BLEND*
When you want to bake without gluten, use this mix for a variety of baking recipes such as cookies, cakes and quick breads.
Preparation time: 5 min
Yield: 3 cups
| | | |
| --- | --- | --- |
| 2 | | cups rice flour |
| 2/3 | | cup potato starch |
| 1/3 | | cup tapioca flour |
| 1 | | teaspoon xanthan gum |
Combine all ingredients in large bowl; stir.

Use mixture in baking recipes. Store mixture in container with tight-fitting lid; stir before using.

Recipe Tip
*This recipe was developed using alternative flours and other products labeled as "gluten-free". To date, however, the FDA and USDA have yet to define the term "gluten-free". We recommend reading all ingredient labels on food products thoroughly for recipe success.

Learn about

gluten-free baking

.
Nutrition Facts (1/4 cup): Calories: 140, Fat: 0g, Cholesterol: 0mg, Sodium: 0mg, Carbohydrates: 33g, Dietary Fiber: 1g, Protein: 2g
I may have posted this before-but a really good base to use, if you also can not use spelt flour, check links for more gluten free from Land O Lakes
Links to friends:
Mary Ellen
,
Rochelle
,
Loretta
,
a link from
Sea,
Maggie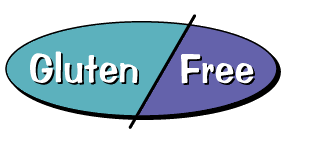 A little information on gluten free diets:
http://www.celiac.com/
http://www.glutenfree.com/
http://en.wikipedia.org/wiki/Gluten-free_diet
good information here
There are several really good gluten free blogs-I found this one with excellent information about choices of gluten free flours
http://glutenfreegirl.blogspot.com/2007/10/guide-to-working-with-gluten-free.html
And you know one of my favorite blogs
http://glutenfreegoddess.blogspot.com/
I just found this blog tonight-if you scroll down on the right to the bottom-she lists many links http://glutenfreemommy.com/
I found this list of unsafe foods http://www.celiac.com/articles/182/1/Unsafe-Gluten-Free-Food-List-Unsafe-Ingredients/Page1.html
When you find out you need to be gluten free-you must read all labels-there is hidden gluten in so many products. A good thing now is they have to label well.
This is my favorite online source of organic and/or whole grains, and he is expanding his gluten free line all the time. Bobs Red Mill has just built a new building to handle all gluten free grains away from gluten grains http://www.bobsredmill.com/home.php?cat=109
Here is a list of Bobs Red Mill gluten free recipes http://www.bobsredmill.com/recipes_search.php?product_ID=all&category_ID=14&keywords=&submit=%3A%3A+search+%3A%3A
and I found Land O'Lakes with excellent information and lots of good looking recipes, I tried to copy and paste but didn't work, do check this site out http://www.landolakes.com/mealideas/gluten-free-recipes.cfm
Gluten free with pumpkin
Pumpkin Pie
Ingredients:
One nine-inch unbaked almond pie crust (recipe below)
1/2 teaspoon ground ginger
2 cups of pumpkin (16 ounce can)
1/4 teaspoon allspice
1 can of condensed milk (14 ounces)
2 tablespoons honey
Two eggs
1/2 teaspoon salt
3/4 teaspoon ground cinnamon
Directions:
In a large mixing bowl, combine all ingredients and mix until blended. Pour into unbaked almond pie crust and baked in a preheated 375-degree oven for approximately 35 to 40 minutes or until cake tester inserted comes out clean. Cool, and garnish with whip cream.
Almond Pie Crust
Ingredients:
1 cup almond meal
1/4 cup powdered sugar
2 tablespoons chilled butter
1-1/2 tablespoons of cream or non-dairy cream
Directions:
In a food processor, blend all ingredients until dough clumps together. Chill 15 minutes. Roll out dough on wax paper dusted with either cornstarch or tapioca flour. Transfer to a 9-inch tart pan.
from here
http://www.fitnessandfreebies.com/celiac/print/celiac92.html
and from the same site
Pumpkin Spice Muffins
Ingredients:
Two eggs (or one egg and two egg whites)
1/4 cup olive oil
1/2 cup raw honey
1/4 cup unsweetened applesauce
1 cup mashed, cooked pumpkin
1-1/2 brown rice flour
1/2 cup Soya flour
1 teaspoon baking powder
1 teaspoon baking soda
1 teaspoon cinnamon
1/2 teaspoon allspice
Dash Salt
1/2 cup raisins (optional)
1/2 cup chopped nuts

Directions:
Preheat oven to 350-degrees.

Beat eggs well; add honey, oil and pumpkin. Add dry ingredients and mix well.

Stir in raisins and nuts. Fill paper-lined or greased muffin cups 2/3 full.

Bake at 350-degrees degrees for 20 minutes. Rotate tins once to brown evenly.
and this following recipe uses gf mix from Bobs Red Mill
Ingredients
1 stick (1/2 cup) unsalted butter, room temperature (I only had 3/4 of a stick so I used that and added 2 Tbsp of olive oil. It worked fine.)
1 cup brown sugar, packed
1 Tbsp molasses
1 Tbsp honey
2 large eggs
1 teaspoon vanilla extract
1 cup pumpkin purée
2 cups
Red Mill's gluten-free flour
(Note that Red Mill's Gluten-Free Flour contains the following ingredients: garbanzo flour, potato starch, tapioca flour, sweet white sorghum flour, fava flour.)
1/4 teaspoon baking powder
1 teaspoon baking soda
1/2 teaspoon salt
1 1/2 teaspoon of pumpkin pie spice (1/2 teaspoon cinnamon, 1/4 teaspoon ground ginger, 1/4 teaspoon ground cloves, 1/4 teaspoon ground nutmeg, 1/4 teaspoon lemon zest)
1/2 cup buttermilk*
1/2 cup chopped pecans
1 cup raisins
Frosting ingredients:
8 oz. cream cheese, room temperature
1/4 cup (1/2 stick) unsalted butter, room temperature
1/4 cup maple syrup
1 cup confectioner's powdered sugar, sifted
*Note to make your own buttermilk, combine 1/2 cup of milk with 1/2 Tbsp of vinegar or lemon juice. Stir and let stand 10 minutes before using.
Method
Cupcakes
1 Preheat oven to 350°F, and place rack in the center of the oven.
2 Using an electric mixer, cream the butter, brown sugar, molasses and honey, until as light and fluffy as it will be, about 2-3 minutes. Add the eggs, one at a time, mixing well after each addition. Add the pumpkin purée and vanilla and beat until incorporated.
3 In a separate bowl, whisk together flour, baking soda, baking powder, salt and spices. Add the flour mixture and buttermilk alternately to the pumpkin batter, in three additions, beginning and ending with the flour mixture.
4 Add the pecans and raisins. Mix in by hand.
5 Set paper cupcake holders in a muffin tin. Spoon the batter into the cupcake paper cups, close to the top of the cups. Bake approximately 18 minutes, or until a toothpick inserted in the middle comes out clean. Let cool completely before frosting.
Frosting
6 Using an electric mixer, mix together cream cheese and butter until smooth. Add maple syrup and confectioners' sugar and mix to combine. Once cupcakes have cooled, apply frosting.
Makes 16 cupcakes.

Simply Recipes http://simplyrecipes.com