Neither Hail
Sandy and I had decided yesterday when my appointment was cancelled to go into town early this morning and check out garage sales, and then her appointment, lunch and whatever after.
We were to meet up at her place around 7:30 am, well by 7 am the sky was getting dark and the rains were going to start any time soon, so I had Larry take me over early.
We are getting ready to leave and the sky brought forth hail-lots of it. So we had another cup of tea, and then left after that.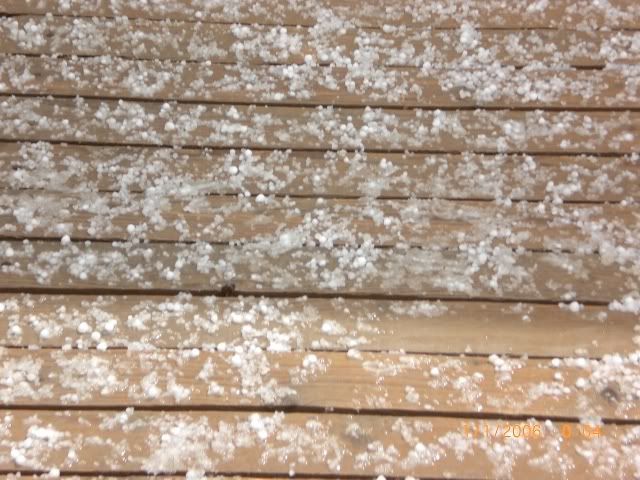 I found this photo on photobucket, Sandy's deck looked quite similiar
We mostly wanted to check out a sale that had advertised lots of crafts and quilting stuff. We find it, it's getting a little darker by now and raining, but she still has her sale up. No quilting stuff anywhere though, so I ask her about it-oh that all sold at 6 am this morning. Mmmm that's a bummer, especially since no time mentioned in the paper.
So then we decide to check out this other sale that Larry had found in the paper that said it was a community sale. Well, we find the signs, one we weren't sure of -turn left or right-so Sandy reads the map we decide to go left.
Now this is definately one of those country ozark roads-all gravel, and the deep ditches on both sides. By now we are getting more rain, still a little darker and we keep on going.
We finally find what we think is the sale-but all the tables are covered up with plastic, and no sign for the sale though. So we decide to keep on going. Now what's kinda funny about this is-- we are now headed out of town and towards home, and it is getting really spooky out.
We are cracking up about this-and I am wishing I had grabbed my camera-as fields are now getting flooded. and I told Sandy this is definately a blog entry.
So we make it to one of the main country roads and then to the main road back into town. Heading into town the rain is really really coming down now, and the streets are full of rain water-especially at all the corners.
I found this video http://www.lebanondailyrecord.com/publish/front.shtml
We are thinking-ya know I think we need to find a place to get off the road-but a neat place too so we can still shop-hehehe.
So we head towards an antique mall place but they are closed for another hour. The business next door is open but its one of those all from china type stuff-and you know I don't like to buy made in china. The weather is getting worse so we decide this it.
It was a brother and sister running the store, and they had their radio on-we are finding out that there are confirmed tornadoes all around us in a wide area. And Lebanon had its tornado sirens on which made it really erie for me-I had never lived in a city so never heard those before.
We got stuck in this store for an hour, I am looking around and telling Sandy this is really not a safe building to be in, one of those pole barn type structures. Sandy finds a corner that would be a safe one if we need it. For at least a half an hour you could not see out the window do to the heavy heavy rains and strong winds.
Here is another story about our area http://ozarksfirst.com/content/fulltext/?cid=147001
When we left for Sandy's appointment the weather got bad again, so much flooding-little cars floating in the side ditches, fields flooded, whole intersections could not keep up with the water etc etc. was quite the site.
After her appointment, and then driving thru half the town with no electric on, we went to lunch-and then the sun came out and stayed out.
When we left and drove back thru town (grocery shopping) the waters were drained off the roads for the most part, and one would never have known what had just gone thru a few hours earlier.
So was quite a crazy but fun day; the adventures of Sandy and Kathyinozarks hehe