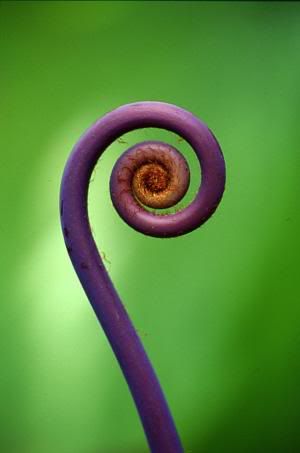 this picture found on photobucket Spring brings on the fiddle head ferns here in the woods of Missouri. I have never tried them, but Larry says he has in the past and likes them. was not sure if this was classified as an herb or not, but research shows it does.
Here is a beautiful blog I found
http://theherbalapocathary.blogspot.com/2006/03/fiddle-head-ferns.html
+++++++++++++++++++++++++++++++++++++++++++++++++++++++++++++++++++
Fiddlehead Fern
This in not a species of fern but a growth stage of any fern- when the tip pokes up through the soil but has not begun to uncurl. Look for jade green ferns and select small sprouts with no more than a ½ inch diameter. Serve steamed or lightly cooked as a side dish with meat or fish.
found this definition here http://www.tonytantillo.com/herbs/herbs.html
+++++++++++++++++++++++++++++++++++++++++++++++++++++++++++++++++++
more good information here too http://www.abouthyme.com/podcasts/fern.html
++++++++++++++++++++++++++++++++++++++++++++++++++++++++++++++++++++
Recipes~~~~~~~~~~~~~~~
http://www.seedsofknowledge.com/fiddlehead.html couldn't paste here do to the java thing again
++++++++++++++++++++++++++++++++++++++++++++++++++++++++++++++++++++++++
Found this on Taste of Home site
Fiddleheads are the young coiled fern leaves (about an inch in diameter) of the ostrich fern (Matteuccia struthiopteris). Nearly all ferns have fiddleheads, but those of the ostrich fern are unlike any other.

Fiddleheads are a delicacy that appears in the early spring during April and May. Harvest the tender little rolls of fern almost as soon as they appear within an inch or two of the ground.

Carefully brush out and remove the brown scales. Wash and cook the "heads" in a small amount of lightly salted boiling water for ten minutes, or steam for 20 minutes.

Serve at once with melted butter. The quicker they are eaten, the more delicate their flavor.

They may be served, like asparagus, on toast. Cooked, chilled fiddleheads can be also served as a salad with an onion and vinegar dressing.

Due to the short season for fiddleheads, some people like to preserve them to be used later. To freeze fiddleheads, prepare them as you would for the table. Blanch a small amount at a time for two minutes. Cool and drain. Pack into moisture- and vapor-proof containers and store them in the freezer.



Shrimp and Fiddleheads

1 pound fiddleheads

6 ounces linguine, uncooked

6 cups water

1-3/4 pounds Maine shrimp, fresh or frozen

1 teaspoon margarine

2/3 cup onion, chopped

1/2 cup green pepper, diced

1/2 pound fresh mushrooms, sliced

1 teaspoon thyme

1/4 teaspoon pepper

1/8 teaspoon salt

1/8 teaspoon celery seed

2 tablespoons lemon juice

Cut off ends of fiddleheads. Remove scales and wash thoroughly. Bring water to a boil in a large saucepan; add shrimp and cook three to five minutes, or until done. Drain well, and set aside. Cook fiddleheads in boiling water for ten minutes. Drain. Coat a large, nonstick skillet with cooking spray; add margarine. Heat until margarine melts. Add onion and green pepper and sauté until crisp-tender. Stir in fiddleheads. Meanwhile, cook pasta as directed, without salt or oil. Drain well, set aside and keep warm.

Add sliced mushrooms, thyme, pepper, salt and celery seeds to vegetable mixture; stir well. Cook, uncovered, over medium heat three to four minutes or until mushrooms are tender, stirring often. Stir in shrimp and lemon juice; cook until heated through, stirring often.

Place pasta on a large platter. Spoon shrimp mixture on top. Serve immediately. Serves 6.

Fiddlehead Dijon

1-1/2 pounds fresh fiddleheads

1 tablespoon cornstarch

1 cup nonfat buttermilk

2 teaspoons Dijon mustard

3/4 teaspoon lemon juice

1/2 teaspoon dried tarragon

1/4 teaspoon pepper

Clean and prepare fiddleheads. Remove scales and wash thoroughly. Place fiddleheads in a vegetable steamer over boiling water. Cover and steam 20 minutes or until tender, but still crisp. Set aside, and keep warm.

Combine cornstarch and buttermilk in a small saucepan; stir well. Cook over medium heat until thickened and bubbly, stirring constantly. Remove from heat; stir in mustard, lemon juice, tarragon and pepper.

Arrange fiddleheads on a serving platter. Spoon sauce over fiddleheads. Serve immediately. Makes 6 servings.

Quick Marinated Fiddleheads

5 lbs fresh fiddleheads

1 lb fresh wild leeks, ramps or shallots

Fresh peppers - hot or mild to aste

Fresh herbs (cut fine)- basil, tarragon, thyme, rosemary and chives.

5 cups apple cider or wine vinegar

5 cups extra virgin olive oil

3 tbsp sugar

salt to taste

Clean and rinse fiddleheads. Blanch fiddleheads in boiling water for 1 minute. Remove from heat, drain and rinse in cold water to cool them. Clean and cut up peppers, wild leeks and fresh herbs.

Pour vinegar over cooled fiddleheads in a non-reactive container. Add cut up peppers, wild leeks, herbs, sugar and salt. Stir to wet all ingredients. Add Olive Oil and stir again. Refrigerate for 24 hours before serving.

Spring Wild Harvest Ragout with Fiddlehead Greens & Morels

1/2 pound fiddleheads, cleaned

1/2 pound "baby" pattypan squash, trimmed

1/2 pound baby carrots, trimmed

3/4 cup shelled fresh peas

1/2 stick (1/4 cup) unsalted butter

1/2 pound pearl onions, blanched in boiling water for 1 minute, peeled, and trimmed

2 thyme sprigs

1 bay leaf

1 cup chicken broth

1/4 pound fresh morels, cleaned and trimmed and sliced

3 tablespoons minced fresh parsley leaves

1 large garlic clove, minced

Boil the fiddleheads in salted water for 4 minutes, or until they are crisp-tender. Drain and plunge in ice water to stop the cooking. When cool, drain in a colander. Repeat the process of boiling and cooling with the squash and the carrots. Boil the peas for 2 to 3 minutes, or until they are just tender, and drain them.

In a large heavy skillet combine 2 tablespoons of the butter, the onions, the thyme, the bay leaf and 1/4 cup of the broth and simmer the mixture, covered, for 5 minutes. Add the morels and 1/2 cup of the remaining broth and simmer the mixture, covered, for 10 minutes, or until the morels are tender.

Add the fiddleheads, the squash, the carrots, and the remaining 1/4 cup broth and simmer the mixture, covered, for 1 minute. Add the peas, the parsley, the mint, and the garlic and simmer, covered, for 1 minute.

Stir in the remaining 2 tablespoons butter, stirring until the butter is just melted. Discard the bay leaf and season with salt and pepper.

Serves 6

More great recipes here

http://community.tasteofhome.com/forums/p/641856/5395346.aspx

++++++++++++++++++++++++++++++++++++++++++++++++++++++++++++

From Food Network

Fiddlehead Ferns and Angel Hair Pasta
1 pound fiddlehead ferns
1 pound angel hair pasta
3 tablespoons olive oil
2 green onions, thinly sliced
1 teaspoon red pepper flakes
1 tablespoon truffle oil
Salt and freshly ground pepper
Grated Parmesan, for garnish
Essence, recipe follows, for garnish
In a large pot of boiling salted water, blanch the fiddleheads until they are crisp-tender, about 3 to 5 minutes. Remove the fiddleheads from the water and shock them in a bowl of ice water (unless you are going to use them immediately). Drop angel hair pasta into the same pot of boiling water used for fiddleheads. Boil for 3 to 5 minutes or until al dente. Meanwhile, in a large skillet, heat olive oil. Saute fiddlehead ferns, green onions, and red pepper flakes for 2 minutes. Drain pasta and add to skillet. Toss with truffle oil and salt and pepper. Divide pasta among 4 plates and garnish with grated cheese. Sprinkle with Essence and serve.
Emeril's ESSENCE Creole Seasoning (also referred to as Bayou Blast):
2 1/2 tablespoons paprika
2 tablespoons salt
2 tablespoons garlic powder
1 tablespoon black pepper
1 tablespoon onion powder
1 tablespoon cayenne pepper
1 tablespoon dried oregano
1 tablespoon dried thyme
Combine all ingredients thoroughly. Yield: 2/3 cup Recipe from "New New Orleans Cooking", by Emeril Lagasse and Jessie Tirsch, published by William and Morrow, 1993.
+++++++++++++++++++++++++++++++++++++++++++++++++++++++++++++++++++++++++
I did come across this warning tonight:
The Center for Disease Control (CDC) has investigated a number of outbreaks of food-borne illness associated with fiddleheads. The implicated ferns were eaten either raw or lightly cooked (sautéed, parboiled or microwaved), which was what caused a food-borne illness outbreak in British Columbia in 1990. Although a toxin has not been identified in the fiddleheads of the ostrich fern, the findings of this investigation suggest that you should cook fiddleheads thoroughly before eating (boil them for at least 10 minutes).
from here http://www.umext.maine.edu/onlinepubs/htmpubs/4198.htm which also includes several recipes too
+++++++++++++++++++++++++++++++++++++++++++++++++++++++++++++++++++++++++
and wow! here is a whole list of recipes here http://www.dmoz.org/Home/Cooking/Fruits_and_Vegetables/Greens/Fiddlehead_Fern/
and also excellent nutrition information here http://www.dadamo.com/typebase4/depictor5.pl?164
++++++++++++++++++++++++++++++++++++++++++++++++++++++++++++++++++++++++
I never realized there were so many available recipes for these, I must try them. Have any of you eaten these and do you have a recipe to share?