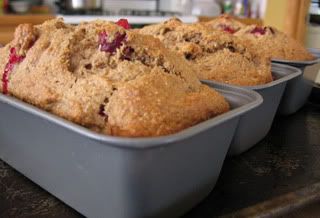 This is my favorite recipe now, it comes from a long time friend of Larrys. She could never cook or bake much, and this is a one bowl method easy-and always comes out so excellent, even with all my changes and is always moist.
Patti's Family Recipe
3 cups sugar - I used 1 cup dark brown sugar and 1 cup splenda
1 cup oil - I used canola oil
3 1/2 cups flour- I used spelt flour /pastry whole wheat flour would be great too
1/2 teaspoon cinnamon
1/2 teaspoon nutmeg
2 teaspoon baking powder
1 teaspoon baking soda
1/2 teaspoon salt-I omit the salt
2/3 cup water
1 small can of pumpkin puree
4 eggs
1 cup nuts-I used 1/4 cup raisins, 1/4 cup dried cranberries, 1/4 cup walnuts, 1/4 cup black walnuts
Use a big bowl; start your mixer and begin adding all of the liquid ingredients and the canned pumpkin until well mixed. The oil and water will not blend well, but when the dry ingredients are added it will all come together-as it should. Add all the dry ingredients except the nuts, and mix well. Now add the nuts in with a spoon. (When I mix this-I put all the dry in a bowl, make a hole in the middle and add all the liquid plus the eggs and then mix away add in the nut mixture with a spoon)
Pour into 3 well greased and floured loaf pans. Bake at 350° for about 55 minutes or until a tester comes out clean.
The loaves must be cooled in the pans for at least 45 minutes to an hour or they will stick to the bottom of the pan. This freezes well. What I do here is to cut a piece of brown paper or parchment paper to fit the bottom of the pans, then add the dough. I let cool in the pans for about 10 minutes, run a knife around the edge, and it will come right out of the pan. Let it cool completely.
This recipe was given to Patti by her mother. This is the best pumpkin bread I have found. It works up fast and you end up with lots of bread to use for gifts or the holidays. This has become a definate favorite.
(The picture above is from photobucket)