Entry for October 18, 2007-cinnamon for herb thursdays
I decided on cinnamon for this week. I love this and we will be using lots of it in the coming months. I was thinking it was classified as a spice-but I found it listed as an herb also
Infor. on the web for cinnamon
http://www.ageless.co.za/herb-cinnamon.htm
http://www.botanical.com/botanical/mgmh/c/cinnam69.html
following are excerpts from this site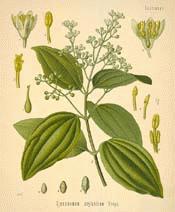 Description---
Grows best in almost pure sand, requiring only 1 per cent of vegetable substance; it prefers a sheltered place, constant rain, heat and equal temperature. The Dutch owned the monopoly of the trade of the wild produce, and it was not cultivated until 1776, owing to Dutch opposition and the belief that cultivation would destroy its properties.
Cinnamon is now largely cultivated. The tree grows from 20 to 30 feet high, has thick scabrous bark, strong branches, young shoots speckled greeny orange, the leaves petiolate, entire, leathery when mature, upper side shiny green, underside lighter; flowers small white in panicles; fruit, an oval berry like an acorn in its receptacle, bluish when ripe with white spots on it, bigger than a blackberry; the root-bark smells like cinnamon and tastes like camphor, which it yields on distillation. Leaves, when bruised, smell spicy and have a hot taste; the berry tastes not unlike Juniper and has a terebine smell; when ripe, bruised and boiled it gives off an oily matter which when cool solidifies and is called cinnamon suet. The commercial Cinnamon bark is the dried inner bark of the shoots. Cinnamon has a fragrant perfume, taste aromatic and sweet; when distilled it only gives a very small quantity of oil, with a delicious flavour.
Medicinal Action and Uses---
Carminative, astringent, stimulant, antiseptic; more powerful as a local than as a general stimulant; is prescribed in powder and infusion but usually combined with other medicines. It stops vomiting, relieves flatulence, and given with chalk and astringents is useful for diarrhoea and haemorrhage of the womb.
---Preparations and Dosages---
Cinnamon Water, B.P., 1 to 2 fluid ounces. Tincture of Cinnamon, B.P., 1/2 to 1 drachm. Oil, B.P., 1/2 to 3 drops. Comp. Powd. Arom., B.P., 10 to 40 grains. Spirit, B.P., 5 to 20 drops.
Gardening information for cinnamon
http://davesgarden.com/guides/pf/go/70370/
http://www.wisegeek.com/what-exactly-is-cinnamon.htm
from
http://en.wikipedia.org/wiki/Cinnamon
Cultivation
Cinnamon is harvested by growing the tree for two years and then
coppicing
it. The next year a dozen or so shoots will form from the roots. These shoots are then stripped of their bark which is left to dry. Only the thin (0.5 mm) inner bark is used; the outer woody portion is removed, leaving metre long cinnamon strips that curl into rolls ("quills") on drying; each dried quill comprises strips from numerous shoots packed together. These quills are then cut to 5-10 cm long pieces for sale.
Cinnamon comes from
Sri Lanka
, and the tree is also grown commercially at
Tellicherry
in southern
India
,
Java
,
Sumatra
, the
West Indies
,
Brazil
,
Vietnam
,
Madagascar
,
Zanzibar
, and
Egypt
. Sri Lanka cinnamon is a very thin smooth bark, with a light-yellowish brown colour, a highly fragrant aroma.
~~~~~~~~~~~~~~~~~~~~~~~~~~~~~~~~~~~~~~~~~~~~~~~~~~~~~~~~~~~~~
Recipes and such
I didn't know where to even begin with cinnamon as it is so common. I found this perfect article.

http://blockcentral.com/cinnamon.shtml

I don't usually anything prepared like mixes, refrigerated rolls and such; but I know alot of you do: and these looked pretty good for a beginning to such a wonderful thing-cinnamon
25 Tips for Using Cinnamon and 5 Great Cinnamon Recipes
1. For diarrhea, mix 1 to 3 tsp Cinnamon into 1cup hot water and steep for 10 to 15 minutes. Strain & drink.
2. A sprinkling of cinnamon can be a quick fix for a small cut. It may not only stop the sting, but help it heal faster too. Wash the cut thoroughly, pat dry, and sprinkle with powdered cinnamon before bandaging. A recent study confirms that cinnamon has natural antibacterial effects and is a natural anesthetic.
3. Sprinkle Cinnamon in with coffee grounds before brewing.
4. Sprinkle on chicken noodle soup for added flavor and instant cold remedy.
5. Mix in with hot cereals.
6. Sprinkle on frozen vanilla yogurt or ice cream.
7. Mix in with regular vanilla yogurt (not frozen) and eat plain or use as a topping for pancakes, bagels, etc.
8. Top a cinnamon-raisin Bagel with vanilla yogurt mixed with cinnamon and place on baking sheet in toaster oven or broiler. Tastes like a frosted cinnamon roll!
9. Room Freshener: Combine 1 tsp Watkins Coconut Extract, 1 tsp Cinnamon, 1 tsp Orange Peel and 1 tsp Allspice. Simmer on low or set jar on register for nice fragrance throughout the house.
10. Put Cinnamon around plants to kill mold.
11. Combine Cinnamon with chocolate when making chocolate cake, puddings or hot chocolate.
12. Cinnamon flavors mashed pumpkin, winter squash or sweet potatoes.
13. Add 1 tsp Cinnamon with dry cream and instant coffee, put in the blender with hot water and drink.
14. Slice apples, put them in a plastic bag and add 1 tbl. Cinnamon and shake. Taste the sweetness!
15. Use on fish before frying, it helps eliminate odor.
16. Put Cinnamon on stored potatoes to keep potatoes from sprouting.
17. Mix with sugar and put in an empty Spice Jar with shaker for cinnamon toast.
18. If doing a pie crust in the microwave, use cinnamon on your fingers when crimping edge. The crust will look browned and have a good taste.
19. Mix Cinnamon with baking soda and use as a carpet freshener before vacuuming.
20. Make Baked Apples by sprinkling halved apples with a little brown sugar & Cinnamon. Microwave 1-2 minutes or just until tender.
21. For your Holiday beverages, add a dollop of whipped cream sprinkled & tinted with Cinnamon.
22. Dust your hamburger roll or bun very lightly with Cinnamon. Tastes Great!
23. Fruit on the grill…grill fresh slices of apples, peaches or pineapple and before serving, sprinkle with a dash of Cinnamon or Nutmeg or a splash of Vanilla.
24. Cinnamon is particularly good with lamb in Indian curries and various Greek dishes. Use it in beef stews & chili. Try it with grains such as rice pilaf, couscous and pearl barley as well as legumes like lentils and split peas.
25. Cinnamon Scents – 6 oz. Cinnamon, 2 1.2 oz. Nutmeg, 16 oz. Applesauce. Combine all ingredients; roll between waxed paper to desired thickness. Cut with cookie cutters. Let air dry, turning daily to prevent warping. In hot weather cover to prevent drying too fast. While Cinnamon Scents are drying, punch a small hole in the top to later tie a small ribbon or yarn for hanging.
Five Great Cinnamon Recipes
Apple Raisin Cobblestone Bread
Bread
1/2 cup chopped apples

1/4 cup raisins

1 tablespoon Watkins Apple Bake

4 teaspoons Watkins Cinnamon

2 pks (11 oz) refrigerated dinner rolls

4 tablespoons butter or margarine, melted
Glaze
½ cup powdered sugar

2-3 teaspoons milk
Preheat oven to 375F. For bread, combine apples, raisins and Watkins Apple Bake Seasoning in a small bowl; mix lightly. In a separate bowl, combine Watkins Cinnamon & sugar. Unroll dough; separate into 16 rolls. Using kitchen shears, cut each roll into quarters. Place half of the dough pieces and half of the butter in batter bowl; toss gently. Sprinkle with half of the sugar mixture; toss to coat evenly. Place dough pieces in loaf pan to cover bottom of pan; sprinkle with half of the apple/raisin mixture. Repeat layers. Bake 40-45 minutes or until lightly brown; cool in pan 15 minutes. Loosen bread from edges of pan; remove to cooling rack. For glaze, combine powdered sugar and milk in small bowl; drizzle over warm loaf.
Yield: 1 loaf (12 servings)
---
Homemade Granola
2 cups old-fashioned rolled oats

1 1/2 tsp Watkins Vanilla Extract

1/2 cup sunflower seed nuts

1 tsp Watkins Cinnamon

1 cup flaked coconut

1/4 tsp Watkins Nutmeg

1/4 cup butter

1/2 cup toasted wheat germ

1/4 cup brown sugar

1 cup raisins

1/4 cup honey

1/2 cup dried fruit bits (apricots, raisins, apples)
On a large cookie sheet with sides, combine oatmeal, sunflower seed nuts, & coconut; mix well & spread out evenly. Bake at 300F. for 20 minutes, stirring several times. While the oatmeal mixture is baking, in a small saucepan, add butter, brown sugar, honey, vanilla, cinnamon & nutmeg. Cook, stirring constantly, over medium heat until butter is melted and mixture is combines; remove from heat. Remove cookie sheet from oven. Increase oven temperature to 350F. Add wheat germ to oatmeal mixture on cookie sheet. Pour warm honey mixture over oatmeal mixture. With a spoon or spatula, stir until mixture is thoroughly coated. Return to oven & bake 5 minutes more. Remove pan from oven & pour mixture onto a large piece of foil; cool completely. Store in an air-tight container for up to 2 weeks. Makes 6 cups.
Nutritional Information per Serving. Calories 270, Protein 6g, Carbohydrates 40g, Fat 10 g, Saturated Fat 5 g, Cholesterol 10 mg, Sodium 54 mg, Dietary Fiber 4g.
---
Honey Glazed Snack Mix
4 cups crispy corn cereal squares

1/4 cup honey

2 cups Honey Nut Cherios

1 tsp WATKINS Cinnamon

1- 1/2 cups mini pretzel twists

1 tsp WATKINS Butter Flavor

1 cup walnut or pecan halves

1 tsp WATKINS Caramel Flavor

1/3 cup butter or margarine
In large bowl combine cereal, pretzels, & nuts. In small saucepan, over low heat, melt butter; stir in honey, Cinnamon, Butter Flavor & Caramel Flavor. Pour over cereal mixture; toss to coat. Spread on 15x10 inch jelly roll pan. Bake at 350 degree F for 12 to 15 min, stirring occasionally until glazed. Cool slightly; spread on waxed paper. Cool completely. Store in tightly sealed containers. Makes 6 cups
---
Mocha Cooler
A refreshing summer drink for coffee lovers.

3/4 cup strongly-brewed Coffee

2 cups chocolate ice cream

1 tsp Watkins Double Strength Vanilla

1/2 tsp Watkins Cinnamon

Crushed ice, if desired
Place coffee, ice cream, Vanilla & Cinnamon in blender container. Process until smooth. Serve over crushed ice or top with whipped cream. Makes 2 servings
Nutritional Information Per serving: Calories 190; Protein 5g; Carbohydrates 30g; Sodium 110mg; Fat 6g; Saturated Fat 4g; Cholesterol 18mg; Dietary Fiber 0g
---
Vanilla Filled Fudge Crown
1 package Swiss or Choc Cake Mix

1 1/2 tsp Watkins Cinnamon

1 Package cream cheese, softened*

1 egg

2 tsp. butter softened***

2 tsp Watkins D.S. Vanilla

1 1/2 tbsp Watkins Vanilla Dessert Mix

1 can sweetened condensed milk
Prepare cake mix as directed on package, adding the cinnamon before mixing. Pour into a well-greased & floured 10" bundt/tube pan. In small mixing bowl, beat cream cheese, butter & dessert mix until fluffy. .Gradually beat in remaining ingredients until smooth. Pour evenly over cake batter. Bake at 350F for 50-55 minutes or until cake tests done. Cool in pan 10 minutes. Remove from pan & place on wire rack - cool. Drizzle glaze over cake.
Glaze
1 cup powdered sugar

1/4 cup Watkins Chocolate Dessert Mix

2 tbsp Watkins Original Grapeseed Oil

1/2 tsp Watkins Double Strength Vanilla

2 to 4 tbsp. warm milk
Combine first 4 ingredients; mix well. Add enough of the milk to achieve desired consistency.
Links, Information, and More: