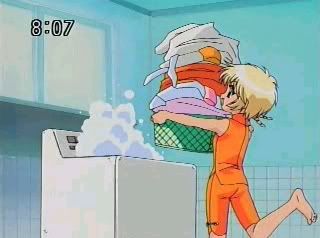 I wanted to share with you which recipes I have made so far-and how I like them.
For the liquid detergent I chose this one, as it looked more concentrated and I also added in glycerin
1 quart boiling water
2 cups bar soap-finely grated-this is important (this time I used Kirks pure castile soap)
2 cups Borax
2 cups Washing soda
2 tablespoons glycerin
instructions
add finely grated bar soap to the boiling water and stir until soap is melted. You can keep on low heat until soap is melted-this is very important at this step to make sure All the soap is totally melted-as it won't melt later-ask me why I know-lol
pour the soap water into a large clean pail-I chose a 5 gallon bucket-perfect- and then add in the borax, washing soda and stir well until all is dissolved.
add 2 gallons of water -use very hot tap water-and stir until well mixed, at this point I also added in the glycerin.
cover the pail and use 1/4 cup for each load of laundry. stir the soap each time you use it as it will gel.
(I thought I would like this recipe better to add to saved laundry soap bottles and use that way, but after seeing what it does, I am going to keep it in the bucket so I can stir well before using, I will decide after this batch if this is the way to go and the soap stays clean)
I used this for the first time on a load of towels, and I also used my fabric softener that had lavender essential oil added. They just came out of the dryer-and very nice-just a hint of lavender, soft, and so clean.
~~~~~~~~~~~~~~~~~~~~~~~~~~~~~~~~~~~~~~~~~~~~~~~~~~~~~
For the dry detergent I used this recipe.
1 cup grated bar soap I used kirks pure castile soap, still looking for bars of fels naptha soap which would be ideal if you have sensitive skin.
1/2 cup washing soda
1/2 cup borax
Stir all together and put in air tight container. use 1 tablespoon for light soiled load and 2 tablespoons for heavy soiled loads.
and for tips they suggested:
liquid detergent can be used to pretreat stains-(soak in a bucket of your homemade liquid detergent)
ivory soap, or any bar soap of your choosing can be used-finely grate all soap
essential oils can be added to soap for a bit of fragrance if you choose.
I really like this soap for heavily soiled clothes along with my fabric softener. I have done a couple loads now and really really like this one.
~~~~~~~~~~~~~~~~~~~~~~~~~~~~~~~~~~~~~~~~~~~~~~~~~~~~
Bleach substitute
1 cup hydrogen peroxide
1/4 cup lemon juice
12 cups water
store in a labeled plastic jug. add 2 cups per load
they suggest to hang your clothes to a dry on a clothesline. first of all saves energy, prolongs the life of your clothes and will keep whites brighter. line drying in the sun also kills bacteria.
This one worked so so on a load of whites. I may experiment with this as a soak first on dirty white socks, and I think the line drying makes the lemon juice work better afterwards
~~~~~~~~~~~~~~~~~~~~~~~~~~~~~~~~~~~~~~~~~~~~~~~~~~~~~~
Fabric Softener
You need a very large pot as the mixture will foam up at first
add 1 cup of baking soad to the pot
add 1 cup of water-don't need to mix yet
slowly add 6 cups of distilled white vinegar. this will cause the chemical reaction with the baking soda and the mixture will fiz up. Let fiz and do its thing for a few minutes.
now add 6 more cups of water to the mixture. this will stop the fizzing process. stir to properly mix all the ingredients.
store in saved fabric softener bottles-may add some essential oils of your choice. 10 to 15 drops at first and see if you like the results first.
Add 1 cup to the final rinse
I really really like this alot and know I will continue to make this one for sure. I split this in half with 2 bottles and left one with no essential oils, and put 12 drops of lavender essential oil in the second-I love it
I also wanted to mention again, in case you did not catch my updated updated blog from a couple days ago-that the best thing I really like about all this is the huge reduction in lint. Our Nikita causes soooo much lint in the wash-and the vinegar I think took care of this-really amazing to me.