Wow !! we got a special treat this morning. Larry was sitting in the bedroom having a cup of coffee, watching the squirels. All of a sudden 4 pileated woodpeckers flew in. Two for sure were males as they were both claiming the same tree. I am so hoping we have a pair that nests close to the house this spring.
I found this site just for the pileated here check the top of this page for more links-the gallery is nice too, and there is also an audio link too.
here is amap of their range, and live in forests
from here
from here
This link is for kids-but it has good information and photos too. here
Found some videos too:
This video I could not embed but it is a wonderful video of the baby birds here
and here is technical pdf of their courtship here
and this link has photos to tell the difference between the male and female
here
now I know for the next time what to look for.
These are such awesome birds, that I wanted to share more information about them with you.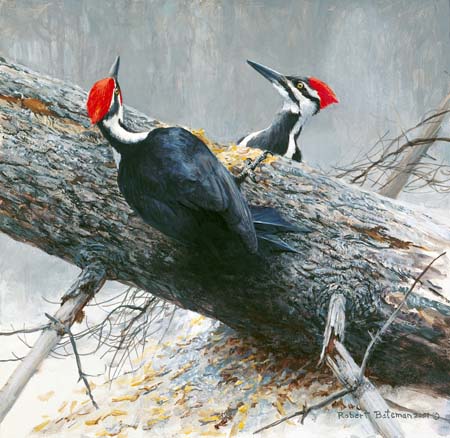 from here
from here