Several years ago I bought the tools to do this-the right little hammer, and a couple of tools that you hammer on to make the designs. We planned on using my handmade tin punched pieces for panels in some of my kitchen cupboards. Haven't tried this yet though-lol
I have just recently been informed that Mr. L wants to helps Larry make my kitchen cabints-he's a craftsman too and has made alot of furniture, spinning wheels, etc in the past. How exciting for me!! I have made do here with no cabinets for 7 years now-hopefully the weather will hold out for a bit so they can start on this after the deer hunt.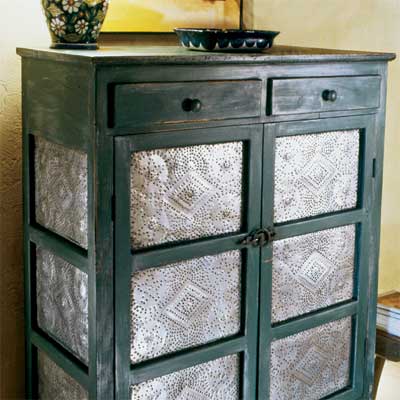 this photo came from this very informative article I just found here and at the end of the article it tells yo how to do it "cheaper" without buying all the special tools
I found this series of tutorials on tin punching in the simpliest form-for making a christmas ornament here
Here is tin punching a tin can into a light or luminaries
another how to here
so next year, I may be making up some tin panels
I may be doing some pineapples, fruit, or wheat since we have alot of 1800s in our home.
What is your experience of doing some tin punching??