I have always loved peanut butter, and felt it was a very healthy food. The label on the ingredients though must only say peanuts and perhaps a little salt-no added sugars, bad fats, etc etc. Found an article online too about this here
I've been buying Smuckers peanut butter for Larry cause when he needs a little pick me up thru the day he can use whole grain bread, my homemade no sugar jams, and peanut butter for a little healthy snack.
I started using Smuckers cause it is available at a regular store, stirs up easily, and is only peanuts with a little salt. Be sure to read the label on the peanut butter you pick up at the store.
a good article here on benefits of peanut butter by Prevention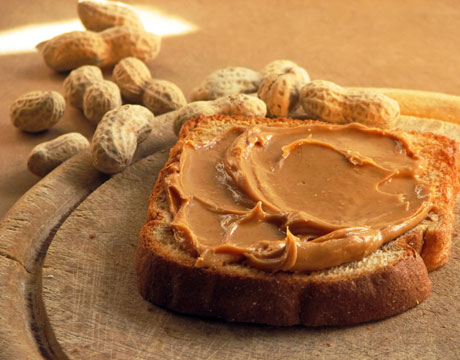 My personal feeling is that peanut butter is an excellent food for the diabetic, expecially when pairing with whole grain breads or crackers.
One of my fav cookies from childhood is the peanut butter cookie-now I make a healthier version-
How do you enjoy your peanut butter??