I didn't make the rounds to everyone's guest book, I was dropping off some cold lemonade. But there is plenty here-enjoy.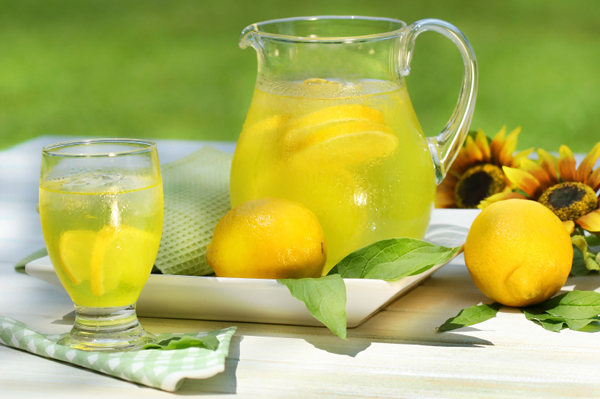 Yankee Harvest Recipes
Grandma's Real Old-Fashioned Natural Lemonade
Makes about 8 cups
A Old-Fashioned Summer time treat ...!
Great pick-me-up, thirst-quenching, and not too sweet.
Lemon Juice, freshly squeezed from 8 large lemons (1-1/2 cups)
1/2 cup of sugar, granulated - more or less to taste
5 cups cold well water
1 large lemon, cut into small wedges or thin cartwheel slices
Freshly made Ice cubes. Make fresh ice cubes, as they may pick up freezer odors over a period of time, if not used regularly.
In a large pitcher, combine the freshly squeezed lemon juice, granulated sugar and 2 cups of cold water; stir briskly to dissolve the sugar. Add the remaining ingredients and stir briskly again.
To make a Honey Flavored Lemonade:
Substitute your favorite "honey" for the granulated sugar. Adjust more or less to taste.
To make a Pink Lemonade:
Add a few drops of grenadine syrup or Grandma's red frosting food coloring.
It's a hot summer day, breezes just barly moving, and your sitting in a rocking swing, on the cool shaded front porch. You are sipping a ice cold glass of lemonade, with some leftover birthday cake, from the day before. It can't get any better than that. Not a care in the world. Enjoy the lazy day...!