That time when Larry and I were searching for eagles along one of the rivers, we thought we saw wild watercress. We recently at Mr. L-and yes it is here, and wonderful.
I have never gathered this, have any of you? I am awake in the middle night, and while reading some blogs-this just popped in my mind-and being thursday-got to remembering about our herb thursdays.
Anyways I found this wonderfully written blog post here about "stalking the wild watercress" here The following photo is from this post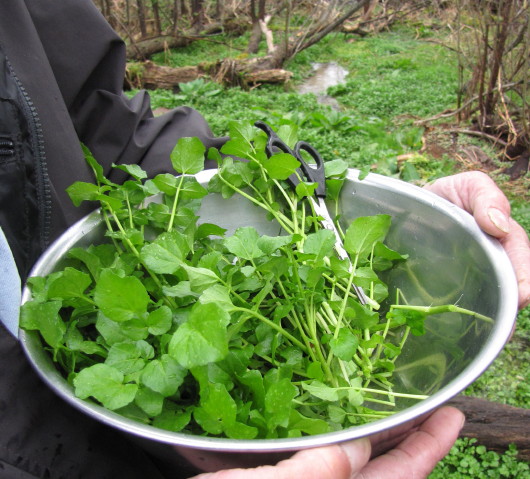 This is a good article too, with tips on safely picking watercress here
recipe for soup here
and from here:
ld watercress (Nasturtium microphyllum) grows near natural water sources like springs and streams. The little green leaves are a highly nutritious food, with antioxidant properties and rich in vitamins B1, B2, B6, C, E, calcium, fiber, iron and potassium. If you're interested in locating some to harvest yourself, keep in mind these tips:
The time to forage for wild watercress is spring to early summer.
Seek out colonies in locations that you know are clean. Avoid places that could be contaminated by industrial or agricultural runoff.
Break off below the leaf instead of pulling out by the roots, leaving the watercress to grow again as a future source for others.
Use your wild finds in a cooked preparation to be perfectly safe.
We're more accustomed to watercress in its raw state in salads and as garnish on meat and the like. So, below are a few cooked watercress ideas we gathered together as incentive to get out and find some wild watercress of our own:
as an herb: here and here
from here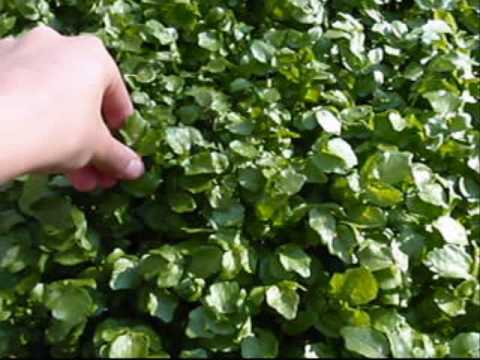 from here
Looking for photos, this seems to take on different appearances depending upon where it is growing-I will definately not pick any til our teacher Mr. L goes with us to properly indentify.