Chicken at the Drive In
I found the following: L and L's Famous Barbeqcued Chicken located in Hawaii, looks really good but can't bring recipe over due to all the javascript. Here is a photo, and following the recipe link
recipe here http://www.grouprecipes.com/79799/l-and-ls-famous-drive-in-barbequed-chicken.html
Country Fried Steak with Gravy-definately a diner food
First a video from Paula Deen
here is a link to her recipe http://www.recipezaar.com/Country-Fried-Steak-Gravy-Paula-Deen-166364
and here is a chicken recipe from Food Network's Diners Drive - Ins and Dives Chicken Marsala http://www.foodnetwork.com/recipes/roccos-famous-chicken-marsala-recipe/index.html
and from the same show Texas Hash
Texas Chicken Hash
Recipe courtesy Edith Lankford Prior owner of Lankford Grocery in Houston, TX.
Serves:

4 servings
Ingredients
4 boneless chicken breasts

Chili powder

Garlic powder

Ground black pepper

4 potatoes, diced

1 stick butter, divided

6 green bell peppers, chopped, plus 2 red bell peppers, chopped

4 onions, chopped

Oil, for deep-frying, plus more for frying eggs

16 corn tortillas

1 cup all-purpose flour

3 cups milk

1 habenero pepper, chopped

4 cups grated cheese, any cheese of choice

8 eggs

Tony Chachere's seasoning, to taste

Avocado slices, for garnish

Tomato slices, for garnish


















Directions
For the Texas Chicken Hash:
Preheat the oven to 350 degrees F.
Season the chicken with garlic powder, chili powder, and black pepper. Put into a roasting pan and cover with foil. Roast the chicken until cooked through, about 45 minutes. Remove to a cutting board and chop.
Add the potatoes and 1/2 stick of butter to a medium skillet and saute until tender. Remove from the pan and set aside. Add the green bell peppers and onions to the pan and saute until soft but not mushy!
Heat a deep-fryer with oil and fry the tortillas until crispy. Transfer the tortillas to paper towels to drain.
In a large saucepan add the flour and the remaining 1/2 stick of butter and cook the flour for 5 minutes, stirring constantly. Slowly add the milk and cook until slightly thick. Add the chopped red bell peppers and the habenero. Stir in the grated cheese and cook until melted.
Coat a large fry pan with oil and add the eggs. Cook the eggs sunny side up.
In a large pot over low heat, add the potatoes, bell pepper mixture and the chopped chicken. Season with Tony Chachere's seasoning, to taste. Stir the potato mixture until heated through.
Put 4 tortillas on a plate in stacks of 2. Spoon some of the chicken mixture on top of both stacks. Top each stack with 1 sunny side up egg and drizzle with the cheese sauce, to taste. Repeat the process with the remaining tortillas, eggs and cheese. Garnish each plate with avocado and tomato slices.
Serve immediately.
This recipe was provided by professional chefs and has been scaled down from a bulk recipe provided by a restaurant. The Food Network Kitchens chefs have not tested this recipe, in the proportions indicated, and therefore, we cannot make any representation as to the results.
So as the weather warms up and you are out and about-check out your local family diner or drive in.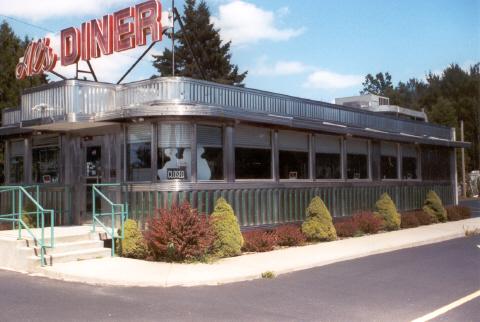 Be sure to pop on over to MamaBear's site to take the Chicken Tuesday Tour