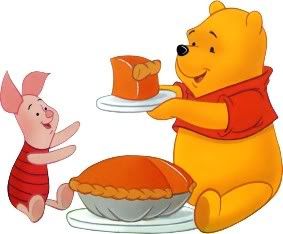 I thought I would share a few of my favorite pie recipes for Thanksgiving and/or the upcoming holidays
If you like to share a recipe with us, please put a link in comments here or in the calender.
Bessie's Pumpkin Pie (this comes from my Grandma Jones recipe box)
1 cup pumpkin
3 tablespoons flour
1 egg
1 cup brown sugar
1/4 teaspoon cloves
1/3 teaspoon allspice
1/3 teaspoon cinnamon
1/4 teaspoon ginger
1/4 teaspoon salt-optional
1 cup milk
1/e cup milnot
1 unbaked pie shell
Blend everything together well and then pour into the unbaked pie shell.
Bake at 425 degrees f for 15 minutes, then 350 degrees for 30 minutes Test done with a tooth pick. cool. enjoy!
+++++++++++++++++++++++++++++++++++++++++++++
Cranberry Blueberry Pie
I got this recipe from my mom, and is a winner! Always bake this up when the blueberrys are fresh, and then for the holidays too.
1/2 cup sugar or sugar substitute
dash of salt
2 cups blueberries-fresh or thawed frozen
1/2 teaspoon almond extract
1/4 cup flour
2 cups cranberries-fresh or thawed frozen
1/2 cup water
1 unbaked pie shell and top or pastry for lattice crust
In saucepan combine sugar, flour, salt and mix well. Add the cranberries. Simmer gently until the skins pop, about 5 minutes. Stir constantly, gently, Remove from heat and stir in the blueberries and almond extract with large spoon. Pour into unbaked pastry lined pan, cover and bake 425 degrees f 30 to 40 minutes-or til bubbles thru.
++++++++++++++++++++++++++++++++++++++++++++++++++
Raisin Pie one of my Grandma Jones favorite pies to make
1 cup seeded and washed raisins
2 cups water
1/2 cup sugar
4 tablespoons flour
1 beaten egg
1 lemon-juiced
2 teaspoons lemon rind grated
pinch of salt
Soak raisins for 3 hours. Mix the sugar, flour, egg together, then add the seasonings, raisins, and liquid. Cook over hot water for 15 minutes, stirring occasionally. Cool mixture then empty into pie line pan. Cover pie with narrow strips of dough-criss crossed. Bake 350 degrees f until brown.
I think I will surprise my Larry with this pie for Thanksgiving this year-it is his one of his most favorite pies-but haven't made it for me do him being diabetic.
++++++++++++++++++++++++++++++++++++++++++
Following is a nice salad for the holidays I haven't made this in awhile either
Apple Slaw
1 pound red cabbage
3 apples peeled cored and shredded
1/2 cup french salad dressing
1 tablespoon minced shallots
3/4 crushed caraway seeds-sometimes I leave this out
1/2 teaspoon salt
adjust seasonings for taste
Finely shred the cabbage and the apples. Combine in a bowl and toss with the French Dressing and remainder of ingredients. Let stand for at least 4 hours-adjust the taste